9th Annual Bald in the Boro Event Was a Success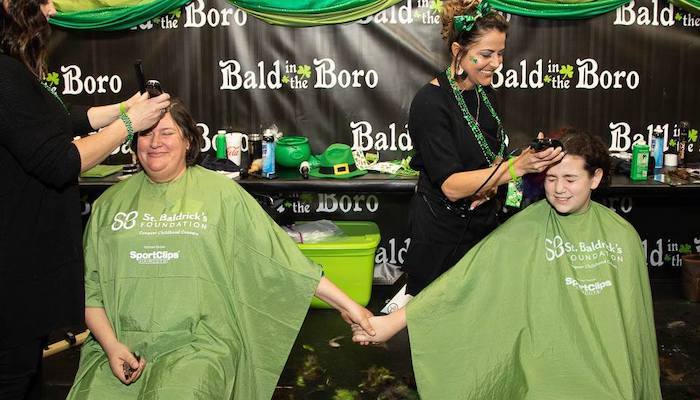 One thing Murfreesboro Medical Clinic (MMC) is happy to see around town is bald heads. Last Friday, March 15th , MMC sponsored the 9 th annual Bald in the Boro event, shaving over 80 heads and raising $49,100 (and counting), all for childhood cancer research through the St. Baldrick's Foundation.
What exactly is Bald in the Boro? This community-wide event involves a head-shaving tradition, buzzing heads bald in exchange for donations to St. Baldrick's Foundation. The St. Baldrick's Foundation is a program which funds childhood cancer research.
The St. Baldrick's Foundation reports more children are lost to cancer in the U.S. than any other disease.  Before they turn 20, about 1 in 285 children in the U.S. will have cancer. Worldwide, a child is diagnosed every two minutes. As a volunteer-driven charity, St. Baldrick's strives to reduce these diagnosis statistics.
Only 4 percent of U.S. federal funding of cancer research is dedicated to childhood cancer research – the vast majority is spent on adult cancers.  Last year alone, St. Baldrick's Foundation granted more than $26 million dollars for childhood cancer research.  "Our Bald in the Boro event began in 2011. Since that time, we have raised over $445,000, bringing much needed awareness to the need for increased funding, and allowing families in our community to be involved in finding cures," Dr. Jeremy Harrison, MMC Pediatrician said.
This event would not be possible without community support. Thank you to the event sponsors, Lanes Trains and Automobiles, Murfreesboro Medical Clinic, The Beehive Salon, and Shea & Dugger Investment Group.
Over 80 participants 'braved the shave,' helping the event raise approximately $49,100 and counting. You can still donate to help Bald in the Boro reach its $50,000 fundraising goal by visiting baldintheboro.com through March 31st .
Bald in the Boro looks forward to celebrating its 10th annual event next year and invites all ages to 'brave the shave,' or simply donate to the cause.