10 Adorable Easter Treats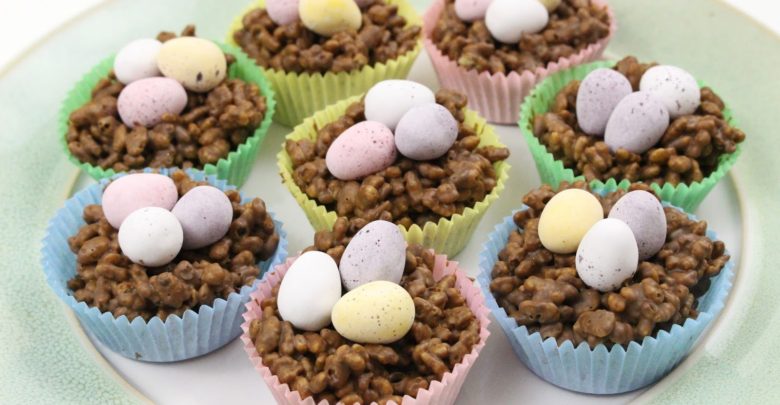 Easter season is upon us and it's probably our favorite time of year. Everything is starting to come back to life–including our sweet tooth!  Satisfy your sweetness cravings with some of these adorable treats! Perfect for any party or get-together you are having this season!
Chocolate Dipped Strawberry Carrots Dip strawberries into warm orange candy melts (available at most crafting stores), refrigerate, and then drizzle with more orange candy melts for these adorable strawberry "carrots".
2. Classic chocolate bird's nest

Ingredients:
4 ounces semisweet chocolate
1 cup small chow mein noodles
12 small chocolate or malted egg shaped candyDirections:
Melt chocolate.
Add chow mein noodles and stir to combine (if the mixture looks too loose, add some more noodles).
Divide mixture into four parts, spoon onto parchament paper and shape into nest.
Put little chocolate or malted eggs into nest and let the chocolate set up for about 30 minutes
3. Egg-Shaped Cereal Treats
Ingredients:
½ cup butter or margarine
1 bag (10 oz.) mini marshmallows
8 ½ cups Fruity Pebbles cereal or other colorful puffed rice cereal
Non-stick ooking spray
12-18 large plastic eggs or 24 small plastic eggs
Directions:
Melt the butter in a microwave-safe mixing bowl for 30–45 seconds. Add the mini marshmallows and stir to coat. Microwave the marshmallow mixture for 1–2 minutes, stirring every 45 seconds. Once melted and smooth, add the cereal and stir until coated completely. Spray the inside of the plastic eggs with cooking spray to prevent sticking. Fill each half of the plastic egg with cereal mix and then close. Let them set for at least one hour before opening the eggs.
Makes 12-18 large eggs or 18-24 small eggs
4. Nutter Butter Chicks
Ingredients:
16 

Nutter Butter sandwich cookies

12 

ounces yellow candy melts or 12 ounces white chocolate candy melts, with

yellow food coloring (must be an oil-based coloring)

8 

orange Tic Tac mints (beak)

black decorating gel (eyes) or icing (eyes)

wax paper
Directions:
Cut the Tic Tacs in half to form the chick's beak. Set aside.
Melt the candy coating as directed on the package. I use the microwave. If using white candy melts, add enough yellow food coloring to get a bright yellow tint.
Dip the Nutter Butter cookies in the melted candy coating, shake off the excess, then lay on the wax paper. Allow the coating to harden, about 10-20 minutes.
Pipe eyes on each chick. Add eyebrows or eye lashes if you like — it gives them more personality.
Beak: Attach the beak using a bit of melted candy coating.
5. Easter Snack Mix
Ingredients:
1 pound white melting chocolate
5 cups Rice Chex
3 cups Quaker Oatmeal Squares
3 cups Cheerios
2 cups thin pretzel sticks (I break them in half)
2 cups cashews
1-2 cups plain M&Ms (or dried cranberries)
Directions:
In very large bowl or roasting pan, combine the cereals, pretzels, cashews, and M&Ms.

Melt the white chocolate in the microwave in thirty second increments, stirring as you go. Once it is completely smooth, pour over the cereal mixture. Gently toss until all of the cereal mixture is evenly coated. Carefully, turn mixture onto a large piece of parchment or wax paper to cool. Once cooled, store in an air-tight container.
6. Easter Kebobs
Simply pick your favorite soft spring candies (ex. Peeps and Reese's) and string them onto a bamboo skewer. Present them on a platter for guests and voila–you have yourself a festive, sugary springtime snack in minutes!
Whether you celebrate Easter or not, Peep Kebobs are the perfect treat to satisfy your spring sweet tooth. They're a surefire crowd pleaser plus they're ridiculously easy to make too.
7. Easter Chick Cupcakes
Ingredients:
A batch of cupcakes
Frosting: yellow, orange and white
Yellow sanding sugar
Decorating bags
Decorating tips: Wilton #102 (petal) and #2 (small round)
Mini chocolate chips
Directions:
1. Put some sanding sugar in a small bowl or plate.
Spread a layer of thick frosting on your cupcake and smooth the top.
Turn the cupcake upside down and press into the sugar until it is covered.
2. Press two chocolate chips into the cupcake for eyes.
3. Pipe some ruffly wings on each side. Using tip #102, pipe some ruffly wings on each side.
4. Spoon some sugar over the wings, then shake off the excess.
Using orange frosting and tip #2, pipe a triangle beak and little feet at the bottom.
5.Using white frosting, pipe a tiny dot on each eye. He's almost too cute to eat!
8. Pretzel Chicks
Ingredients:
24 Mini Pretzels
1 cup Yellow Candy Melting Chips
24 Mini Chocolate Chips
2 Orange Starbursts
Directions:
Cut Starburst into 3 rectangular strips (1/4″ x 3/4″)
Cut each of those in half, creating 6 – 1/4″ x 3/8″ rectangles.
Now cut each of those diagonally creating 12 triangles for beaks.
Repeat with other Starburst, giving 24 beaks.
Lay pretzels out on wax paper lined cookie sheet.
Heat Yellow Candy Chips by microwaving for 30 seconds stirring and repeating until melted. Allow to cool for 2-3 minutes.
Transfer chocolate to corner of zippered bag and clip tiny piece off of corner to pipe.
Pipe candy over inside of pretzel to form shape of chick. Smooth with finger if necessary.
Place mini chocolate chips for eyes and Starburst triangles for beaks.
Place cookie sheet in refrigerator for 20 minutes to allow candy to set
9. Easter Bunny Cheesecake Strawberries
Ingredients:
1

 

lb.

 

Strawberries

1

 

Package of 8 oz. Soft Cream Cheese

1/2

 

cup

 

Powdered Sugar

1/2

 

Tablespoon

 

Vanilla Extract

Graham Cracker Bunnies
Directions:
Cut off the strawberry stems. Remove the inside of the strawberry with a small knife or strawberry corer tool to create a cup for the filling.

Trim the pointed strawberry tip with your knife so the strawberry will stand upright. Place on a cookie sheet.

In a bowl, beat softened cream cheese, sugar, and vanilla with a mixer until fluffy.

Place the cream cheese mixture in a pastry bag and pipe into the strawberries.

Refrigerate the cheesecake stuffed strawberries until ready to serve. Make them 3-4 hours before serving or your strawberries will get soggy.

Right before serving, garnish with a graham cracker Bunny. Crackers will get soggy if you add these too early as well.
10. Bunny Donuts
Ingredients:
Powdered donut packs, white craft foam, pink craft foam, scissors, googly eyes, a Sharpie, pom poms, and a hot glue gun.
Directions:
Cut outer ears and a tummy from the white foam, inner ears and a nose from the pink foam, glued everything in place, and then drew on a mouth. Of course, the tail is a pom pom. The tummy is there to cover the small printed serial number.