All Things Valentine's in the Boro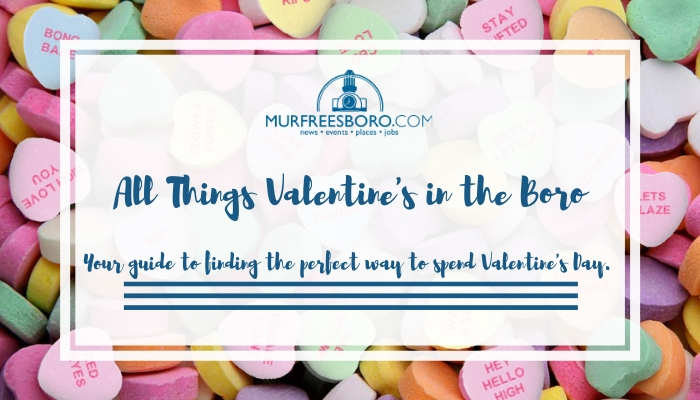 The equally loved and often hated holiday is right around the corner! Whether you plan on spending February 14th with the love of your life, your best pals, family, or hanging out solo, Murfreesboro has several events to keep you entertained. From Poetry readings to Ballroom dancing and even grown up Truth-or Dare…we've got your guide to all things Valentine's Day in the Boro.
Love Poetry Reading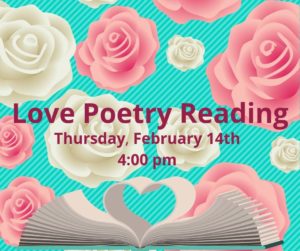 Celebrate Valentine's Day by stopping by MGL Library to listen to and/or share favorite poems that celebrate love. MGL Memorial Library is located inside the Patterson Park Community Center. Center membership is not required to visit the library.
Date/Time:
Thursday, February 14,
4 PM – 5 PM
Location:
MGL Memorial Library
521 Mercury Blvd, Murfreesboro
Love a Pet Adoption Special at Paws

Open your heart to some "furry" love and adopt a shelter pet at PAWS during the "Love a Pet" Adoption Special!
February 14-16, ALL cat adoption fees, senior dog (5 years+) and *"single" dog adoption fees $4 to good homes. All other dog adoption fees $14.
All available, adoptable pets are already spayed or neutered and up-to-date on their vaccinations. While supplies last, all adopters receive courtesy bag of pet food and adoption folder to keep up with info for new furry!
Make sure to bring proof of current rabies vaccination for each applicable pet in the home, and plan to bring your friendly, confined/leashed pet(s) to meet other potential new furrys coming to the home.
View all current pets up for adoption here: http://asp.rutherfordcountytn.gov/apps/paws/
Learn more about adoptions and the adoption process here: paws.rutherfordcountytn.gov/adopt.html
*("Single" dogs are dogs who are best suitable as only pets in the home).
Contact 615-898-7740 or message PAWS for more info!
Date/Time:
Thursday, February 14 – Saturday, February 16th
During normal business hours
Location:
PAWS of Rutherford County, TN
285 John R Rice Blvd
Maps/Directions
Valentine's Cupid Tour at Mayday Brewery

Cupid leads this tour with LOVE! Bring someone you can laugh and have fun with. You don't have to love them, we will. You never know what can happen at Mayday. $20 tour includes souvenir pint glass and ample samples!
Date/Time:
Thursday, February 14,
6 PM –7 PM
Location:
Mayday Brewery
521 Old Salem Rd
Maps/Directions
8th Annual Wedding Dresses Through the Decades at Oaklands

Stories of our community will come to life through wedding gowns on display at Oaklands Mansion which span 150 years. Step back into time and experience the common threads that weave our lives together as we explore women's history, fashion history, cultural history and the history of our community. Over fifty gowns will be placed on loan and exhibited, most for the first time. The "Wedding Dresses Through the Decades" exhibit in Maney Hall at Oaklands Mansion will take place from January 19 through March 3, 2019.
Vintage gowns from the past 100 years will be on display along with brides' photos and stories from their wedding day. During this exhibit, guests will have the rare opportunity to view items from, not only the museum's collection, but also elegant and fashionable wedding dresses worn by ladies from Murfreesboro and around the country. Also on exhibit are bride dolls from different decades in many different sizes and vintage bridesmaid's dresses.
"These treasured garments reveal stories and secrets of the past and have been stored for decades under beds and in the back of closets," said Mary Beth Nevills, Education Director of Oaklands, "We look forward to sharing with you this year's exhibit, full of new dresses from our community's past."
Witness the changes in fashion from different areas, eras and cultures as we transcend time to the modern day bride. The exhibit will be open daily, Monday-Saturday 10:00 a.m. – 4:00 p.m. and Sundays 1:00 p.m. – 4:00 p.m. Admission to the exhibit is $10.00 per person and is open to the public. Mansion tours are available at regular rates during regular museum hours and combination tickets for the exhibition and house tours are available at a reduced rate. Group tour rates are available with a reservation.
Date/Time:
Thursday, February 14,
10am-4PM
Location:
Oaklands Mansion
900 N Maney Ave
Murfreesboro
Maps/Directions
Valentine's Day with The Cleverlys at Pucketts
What sounds better than a night with your sweetheart and The Cleverly's at Puckett's!? Come out and join us for a special Valentine's dinner and a show at Puckett's Murfreesboro. We will be serving a limited 3 course menu beginning at 6 PM with The Cleverly's beginning at 7 PM.
Tickets will be $80 for a couple ticket or $45 for a single. Bring your loved one or a group of friends. Either way this Valentine's Day will not dissappoint with this entertaining group!
The Cleverlys are a one-of-a-kind comedy/music blend coming from the remote part of the Ozark Mountains, near Cane Spur, Arkansas.
Digger Cleverly, along with his nephews Ricky Lloyd, Sock, DVD and Cub, make up The Cleverlys. They have traveled the globe, if the globe only consisted of the United States, performing at music venues and some of the nation's largest festivals like Stagecoach, Telluride, CMA Music Fest and even the Grand Ole Opry.
The New York Times wrote, "If Earl Scruggs, Dolly Parton, and Spinal Tap spawned a litter of puppies, it would be the Cleverlys."
Don't be fooled by this faux-family band – they are all accomplished musicians putting their unique bluegrass spin on cover songs from any genre. The Cleverlys' set list includes genius arrangements of tunes like Psy's "Gangnam Style," a medley of Blackstreet's "No Diggity," and Flo Rida's "Low" that recently went viral on Facebook, with over 11 million views from a local TV appearance.
Click HERE to get tickets
Date/Time:
Thursday, February 14,
6-7pm
Location:
Puckett's Murfreesboro
114 N Church St
Murfreesboro
Maps/Directions

Valentine's Dinner at Stones River Country Club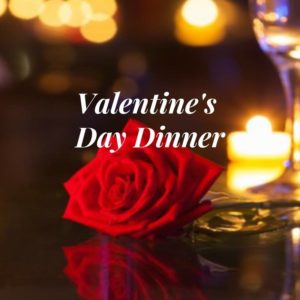 Enjoy a special dinner for two at the Stones River Country Club.
Live music and babysitting;
RESERVATIONS REQUIRED.
615-896-4431
Date/Time:
Thursday, February 14,
5-9pm
Location:
Stones River Country Club
1830 NW Broad St
Murfreesboro
Maps/Directions
Bar Louie Murfreesboro Truth or Dare Valentine's Day Party

Truth: This is a party you don't want to miss
Dare: We dare you to come and not have a good time
Join in at Bar Louie Murfreesboro on Thursday February 14th for their Truth or Dare Valentine's Day Party.
Come down for their two new drinks, The Chocolate Truth and Diablo Dare and stay to party with them through the night with Late Night specials from 10p to close including:
$3.50 Select Drafts (14oz)
½ off Apps and Flats
Date/Time:
Thursday, February 14,
11am – 2am
Location:
Bar Louie
2615 Medical Center Pkwy #2395
Murfreesboro
Maps/Directions
Forever Abbey Road-Valentines Day show at Hop Springs

All You Need is Love: Valentines day show with Forever Abbey Road Beatles Tribute live at Hop Springs,
Couples, families & friends welcome!
Only $15 for the show or $50 for candlelight dinner package
Doors open for Candlelight dinner at 6pm. Acoustic dinner music at 6:30 with the beautiful harmonies of After Violet, then Forever Abbey Road will perform the Beatles' best love songs and greatest hits!
"Candlelight dinner package" includes: A greeting and toast with a 5 ounce glass of Frost upon entering the venue & a beer of choice with dinner, Slow Roasted turkey carving station and smoked prime rib carving station with an array of fresh appetizers, an assortment of desserts and tasty treats, and wonderful beer pairings that include Guru Gish with GooGoo clusters.
Celebrate Valentines Day with music from the band who sang about Love more than any other artist-The Beatles!
Standard show Tickets are $15 in advance or $20 at the door.
www.hopspringstn.com
Date/Time:
Thursday, February 14,
6-9PM
Location:
Hop Springs
6790 John Bragg Hwy
Maps/Directions
MTSU Jazz Artist Series: The Tennessee Jazz Collective

MTSU Jazz Artist Series: The Tennessee Jazz Collective (Big Band) featuring the compositions of Jamey Simmons
Date/Time:
Thursday, February 14,
7:30-8:30pm
Location:
MTSU School of Music
1301 E Main St
Maps/Directions
Ballroom for Beginners

The best gifts don't come in a box. Share the love this month with the gift that keeps on giving!
Come out and join in for an experience every Thursday night for the month of February.
National Dance Clubs of Murfreesboro will host a beginners class at 7:00pm to cover the basics in some of the most popular dances. Immediately following they will play some music and give you an opportunity to practice what you have learned.
Reservation is required for this event so please call (615)849-1155
Date/Time:
Thursday, February 14,
7:00-8:30pm
Location:
National Dance Clubs of Murfreesboro
710 Memorial Blvd #122
Murfreesboro
Maps/Directions
Couples Painting Set or Pick One! Moon River Love at Painting with A Twist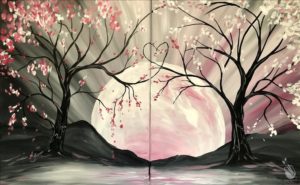 Bring your special sweat heart and let our talented local artists will walk you through this fabulous piece step by step, from start to finish. You're welcome to bring your favorite sips and snacks… whatever floats your boat! We'll bring the paint, supplies, and FUN! Let's get ready to make some memories and raise a glass to creativity!
Adult Night Class; Ages 15 & up
Date/Time:
Thursday, February 14,
9-11PM
Location:
Painting with a Twist
2615 Medical Center Pkwy, Ste 1750,
Murfreesboro
Maps/Directions
Murfreesboro Old Time Jam at Mayday Brewery

The Bi weekly installment of the Murfreesboro Old Time Jam will be from 6pm-8pm at Mayday Brewery in Murfreesboro, TN. ON THE SECOND AND FOURTH THURSDAY OF EVERY MONTH. All players are welcome, beginners up to pro level. All ages are welcome. Acoustic instruments only,(fiddle banjo guitar etc.) no drums.FOCUS IS ON PRE- BLUEGRASS ERA STRINGBAND MUSIC !. Tell your friends. Spectators welcome and admission is always free., Food truck is always on site, and as always tasty craft brews from our gracious hosts Mayday Brewery! Smoke free, family friendly! Hope to see ya'll there!
Date/Time:
Thursday, February 14,
6 PM –8 PM
Location:
Mayday Brewery
521 Old Salem Rd
Maps/Directions
Geeks Who Drink Trivia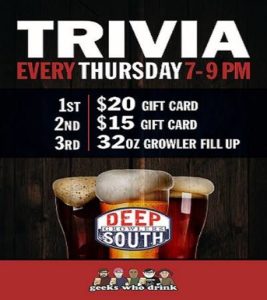 Geeks Who Drink are here to test your knowledge!!! They have Happy Hour that starts at 6:30pm till the end of trivia with 50% Select Pints.
1st Prize $20 Gift Card
2nd Prize $15 Gift Card
3rd Prize 32oz Growler Fill Up(Don't forget to bring your growler)
Good Luck and Cheers!!!
Date/Time:
Thursday, February 14,
7 PM –9 PM
Location:
Deep South Growlers
1602 West Northfield Boulevard, Suite 8
Murfreesboro,
Maps/Directions