Autocam Medical hiring for Murfreesboro location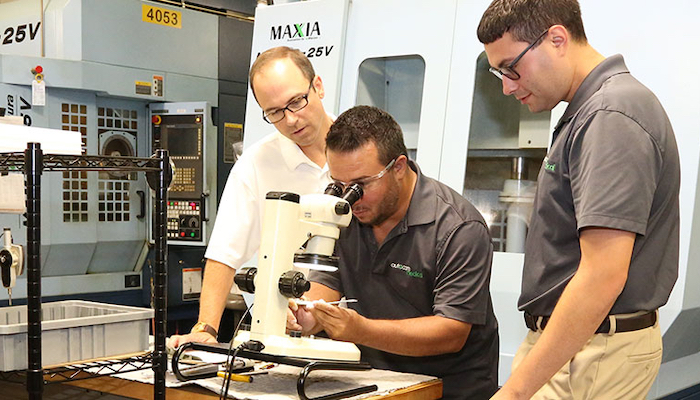 Autocam Medical, a global contract manufacturer of precision surgical and medical components and devices, announced that they are looking for a full-time CNC machinist to work the night shift in their Murfreesboro location.
Applicants must be capable of setting up and operating single and/or multiple spindle machines as well as monitoring and controlling the quality of machining practices by utilizing process control tools. They must also be proficient in maintaining production processes and working within the expected quality standards and efficiencies that are established for the line. CNC experience is required.
Autocam Medical offers a clean work environment and a generous compensation package including full health insurance and quarterly incentives. The company also provides a shift pay differential for this position that increases the employee's hourly base wage by 10 percent.
Bill Conklin, a CNC Machinist at Autocam Medical's Murfreesboro plant highlighted many of the other reasons why it's great a company to work for, "I have been machining medical implants since 1991, I worked for one of the bigger medical implant companies in the world. Born and raised in the Northeast, I thought it was time for a change, so I put my resume out there and found Autocam Medical in Murfreesboro TN. I would have to up root my family and relocate to Tennessee, my family agreed to it and we did. That was one of the best decisions I have ever made. It's a very clean shop, great people who really care, a great atmosphere, just a great place to work."
More in-depth information regarding this position may be found at: https://autocam-medical.com/careers
About Autocam Medical
Autocam Medical is a global contract manufacturer of precision-machined drill bits, drivers, screws, plates, cutting tools and other complex, highly engineered surgical implants, instruments and handpieces, as well as other device components. Clients are involved with instruments and devices used in procedures including the foot and ankle, hand and wrist, hip and knee, shoulder and elbow, spine, as well as ophthalmology and craniomaxillofacial procedures. The company offers a value-added approach to high-precision manufacturing with specialties in CNC milling, turning and cutter grinding. The company has achieved ISO 13485 and ISO 9001 certification and is FDA Registered and been awarded a VISA certificate in Brazil. Facilities in the U.S., China and Brazil.