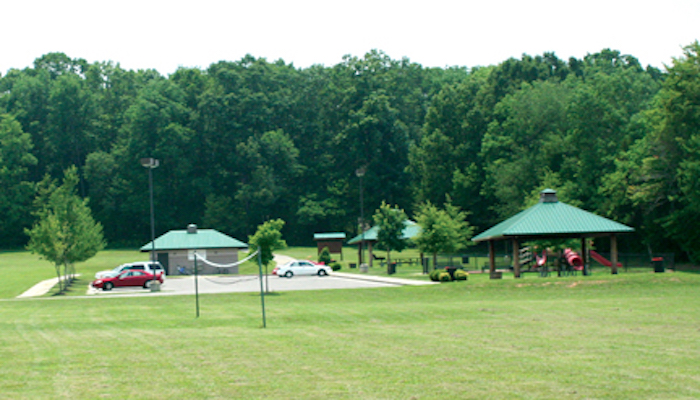 Barfield Crescent Park is beautiful 430-acre community park located in the southern area of Murfreesboro. Amenities include:
Administrative office of the Parks and Recreation Department
Picnic shelters with tables:

Four shelters seating 24 in each
One shelter seating 76
Four shelters seating 108 in each
One corporate shelter seating 315 or more

Baseball / softball complex

Parking for 600 cars
Two concession stands
Scorekeeper areas and scoreboards
Three grass Little League baseball fields with fences
Regulation baseball field
Three 200 foot skinned multi-use fields
315 inch fenced skinned multi-use field
Baseball and softball programs are provided by the Murfreesboro Baseball Association
To reserve a field, call (615) 907-2251, or email

Over 7 miles of both paved and unpaved hiking and walking trails (Barfield Crescent Park trail map)

12 private campsites
One group campsite

18-hole championship Disc Golf Course
Wilderness Station

Two educational classrooms
Restrooms
Outdoor store

Two playgrounds
Grass volleyball court
Horseshoe pits
Tetherball
Park Rules & Safety
Rules
Our parks were developed to provide the citizens of Murfreesboro and Rutherford County with wholesome family recreational activities. We encourage your participation and request your cooperation in keeping the park attractive for everyone.
The following are prohibited:
• The use of alcoholic beverages, drugs, tobacco products, and firearms
• Selling goods or soliciting without city's prior written approval
• Parking on the grass. Use designated parking lots only.
• Vandalizing property or facilities.
• Glass containers of any kind
• Climbing on any structure or fence other than in playgrounds
• Fires other than in designated picnic and campground areas
• Nudity
Animals
• All pets must be in a vehicle or on a leash, unless within the enclosed fence area of the Murfreesboro Parks and Recreation Bark Park, and physically controlled at all times.
• With the exception of service dogs, dogs or other domestic animals are not allowed in any park property building or athletic areas/fields unless otherwise authorized or approved.
• Persons with pets on trails, Bark Park, picnic and camping areas will be responsible for proper removal and disposal of the animal's waste.
Athletic Fields and Park Property Buildings
• No pets (with the exception of service animals).
• No scooters, skateboards, skates, bikes or motorized vehicles.
• Do not deface property including sidewalks, buildings, and structures. No sidewalk chalk.? • The use of tobacco products including smoking is not permitted within the complex.
• The possession of alcohol, drugs, and firearms will be punishable by law.
• Shoes and shirts are required at all times.
• Do not climb on structures or fences.
• No selling of goods or soliciting without prior written permission? • Please do not kick, hit or throw balls against fences or structures.?
• No fighting or foul language.
Safety
Put valuables out of sight before you arrive.
Lock your vehicle.
Take your key with you.
Help us keep our parks safe, starting with the parking lots and Greenway trailheads!