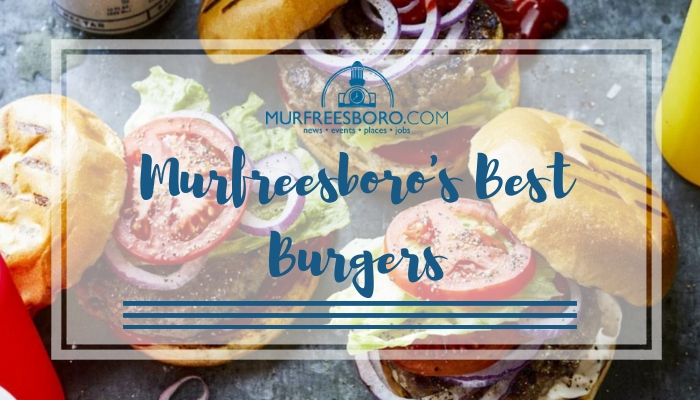 A burger craving is not one to mess with, so when you're seeking to find the best burger in the Boro, you can count on these top 10 burger joints.
Rutherford County has two locations in which you can get your Five guys fix!
Murfreesboro:
536 N. THOMPSON LANE
MURFREESBORO TN 37129
Smyrna:
311 SAM RIDLEY PARKWAY WEST, UNIT 313
SMYRNA TN 37167
Hours:
Sun-Thurs 10am-10pm
Fri-Sat 10am-11pm
Five guys also has delivery options: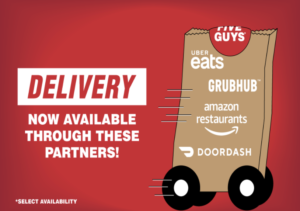 Location:
1916 East Main Street
Murfreesboro, TN 37130
Hours:
Monday-Wednesday 10:30am – 10:00pm
Thursday-Saturday 10:30am – 11:00pm
Sunday 10:30am – 9:00pm
You can order online here, and Jefferson's is available on Uber Eats.
This is one of our personal favorites! Some might think the Dog Haus is only for the hotdog lover, but they have excellent burgers too…not to mention several unique beer choices to pair with your burger!
Location:
521 NW Broad St
Murfreesboro, TN 37129
Hours:
521 NW Broad St, Murfreesboro, TN 37129
It is 2019, so we are not surprised to see they have their own App that can be dowloaded in both the Apple Store and Google play!
Using the apps allows you to:
Order and pay with the app
Delivery or pick up
Earn Rewards
Skip The Line
Save Your Favorites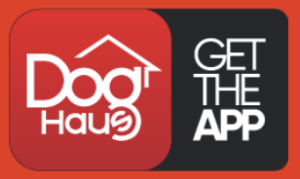 Miller's is fairly new to the Boro!  At the Ale House you can come hang out, watch sports, be yourself and enjoy the company of others without breaking the bank. They are known for their wide variety of freshly prepared dishes, and daily lunch, dinner and cocktail specials. From Filet Mignon and original pasta dishes to fresh salads and our signature fresh, boneless chicken Zingers tossed in your favorite sauces, our extensive menu offers something for everyone.
With over 75 beer varieties, including sought-after foreign imports and craft brews, signature cocktail pitchers and loads of specialty drinks, we have you covered any day of the week!
Location:
1714 Old Fort Parkway
Murfreesboro, TN 32719
Hours:
Mon – Sun 11:00 AM – 2:00 AM
Each Burgerim burger is yours for the building, declaring your individuality with a statement of your own special flavor and design. With 3 buns, 6 sauces, 11 patties, and 9 unconventional toppings, one Burgerim order can satisfy all of your cravings. Try hundreds of flavor profiles, from Wagyu beef and pineapple to veggie and a sunny side up egg. Build a simple burger for your kids and an unconventional masterpiece for yourself. They also provide delicious alternatives to suit dietary preferences like vegetarian, gluten free*, and vegan. (*coming soon)
Location:
2306 Medical Center Parkway
Suite B-1
Murfreesboro, TN 37129
Hours:
Mon-Thurs: 11am-9pm
Fri-Sat: 11am-10pm
Sun: 11am-8pm
Burgerim is available for delivery on Uber Eats.
Fat Mo's has three Rutherford County Locations!
Murfreesboro:
1301 Memorial Blvd
Murfreesboro, TN 37129
Smyrna: 
298 Sam Ridly Parkway East
Suite 100
Smyrna, TN 37167
LaVergne:
562 Waldron Rd #2
La Vergne, TN 37086
Hours:
Mon-Fri: 11am-9pm
Sat: 11am-8pm
Sun: Closed
Fat Mo's does not have delivery options at this time.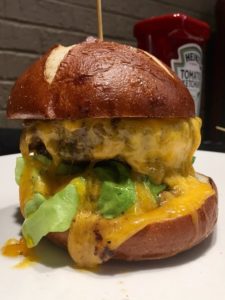 Location:
Located at the Doubletree by Hilton
1850 Old Fort Parkway
Murfreesboro,TN 37129
Hours: 
Mon-Thr 6:00 am – 1:30 pm
4:30 pm – 11:00 pm
Fri 6:00 am – 11:00 pm
Sat 6:00 am – 11:00 pm
Sun 6:00 am – 11:00 am
4:30 pm – 11:00 pm
Burger Republic definitely knows how to make a mean burger! From the Tennessee (with Jack Daniel's honey glaze) to the Jalapeno Popper (with tempura jalapenos), you'll have no trouble finding one you love. A harder choice might be figuring out which spiked shake to order. Frozen Black Irish? Spiked Reese's Malt? Maple Bourbon? You may have to try them all.
Location:
1500 Medical Center Parkway
Murfreesboro, TN 37129
Hours:
MON-THU 10AM-10PM
FRI 11AM-10PM
SAT-SUN 10AM-10PM
*Bar stays open later
No delivery option with Burger Republic at this time.
Buster's has been cooking up some of the best Burgers in the Boro since 1973!!
Location:
1615 NW Broad St
Murfreesboro, TN 37129
Hours:
Mon-Sat 10:30am – 8:00pm
Busters is available for delivery on Uber Eats.
Location:
113 N Maple St
Murfreesboro, TN 37130
Hours:
Open Daily 11:00 am – 2:00 am
Jack Brown's delivery is not an option at this time.