Bonnie Gertrude Bogle Leyhew obituary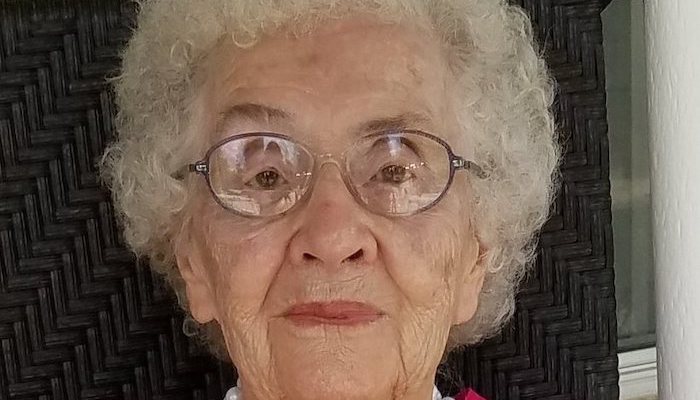 Bonnie Gertrude Bogle Leyhew, age 95, passed away Thursday, January 31, 2019.
She was a native of Rutherford County (Porterfield Community), living most of her life in the Burt Community, however, returning to Murfreesboro in 2007. She was a member of Burt Baptist Church.
Bonnie was preceded in death by her husband, Ernest Leyhew; parents, Fisher and Sally Bryson Bogle; five brothers, Laymon, Lebron, Nile "Rufus", Hugh, and Terry "Pete" Bogle; and two sisters, Nancy Haskins and Clejo Campbell.
She is survived by son, David (Sharon) Leyhew of Murfreesboro; daughter, Lynn Leyhew Mabe (John McKinness) of Fort Mill SC; brother, Harry Bogle of Murfreesboro; grandchildren, Tammy Collins (Rod), Angela Oliver (Tommy) of Murfreesboro, Jason Mabe (Marie) of Germantown MD, Jeremy Mabe of Denver CO; great-grandchildren, Lucas Oliver (Erica) of Woodbury, Mahalie Mullinax of Murfreesboro, Toby and Brooke Mabe of Germantown MD; great-great grandchildren, Oakley, Lennox, and Ledger Oliver of Woodbury, TN; and many nieces and nephews.
Bonnie loved her Lord, her Church, family, and her friends. Bonnie enjoyed gardening, reading her Bible, missions, word puzzles, and game shows.
Please join us with visitation on Sunday, February 3, 2019 from 4:00pm until 8:00pm at Woodfin Memorial Chapel. A Celebration of Life will be held Monday, February 4, 2019 at 1:00pm at Woodfin Memorial Chapel. Bro. Rodger Eakin and Bro. Darrell Whaley will officiate. Burial will follow in Coleman Cemetery with family and friends serving as pallbearers.
The family would like to give a special thanks to Mahalie Mullinax for the wonderful care and attention she provided for her great-grandmother over the past few months. In addition, the family would like to thank the 2nd floor East staff at NHC for caring for Bonnie and to Caris for the compassion they showed and helped the family during the final months.
An online guestbook is available for the family at www.woodfinchapel.com. Woodfin Memorial Chapel 615-893-5151.