Escaped inmate's sister says correctional system failed her brother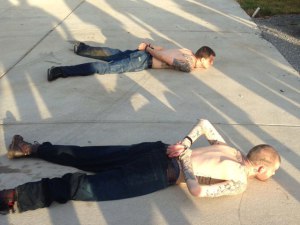 The sister of one of the Georgia inmates who escaped from a prisoner transport bus claims the Georgia Corrections System let her brother down.
"Donnie is not a monster. Donnie came from a good family," Lilly Maye Jackson told News 2.
Less than 24 hours after her brother was taken back into custody, Jackson was full of emotion.
"I don't even have the words to explain any of all of this," she said.
While she may not have a lot of words, she has plenty of questions left unanswered.
"I want to know who undone those handcuffs and shackles. Who opened up that door?" asked Jackson.
Jackson says her 43-year-old brother was a son of a Georgia police officer and cried out for help inside the jail cell.
"He went to Milledgeville to get help," she explained.
Rowe spent only a week at Baldwin State Prison, a medium security facility, to help prisoners with mental health issues. She believes Rowe should have never been on that transport bus.
"It ain't [sic] all his fault. Something else is going on in that system," she said.
Rowe is currently serving a life sentence for armed robbery and aggravated assault. Jackson says her brother's criminal past began when get got caught up with the wrong people.
"Donnie got into drugs in his early 20s and got in with the wrong crowd," she explained.
She knows he is a prisoner but says he is a person too.
"He is somebody's son, father, grandfather, somebody's brother," Jackson told News 2 Friday afternoon.
She believes the Georgia Corrections system let her brother down by not helping him.
Now, he has to live with the consequences."Fifteen years in prison will do something to somebody's mind and when you cry out for help, they are supposed to help them."
"He's the one that has to live with himself and ask God for forgiveness," she said.
Jackson said she does have a message for the families of the correctional officers and the others hurt by their actions.
"I'm sorry for what my brother has done, I'm sorry for the bloodshed."
Courtesy of WKRN News 2