LIGHT UP THE NIGHT
September 6, 2019 @ 6:30 pm

-

9:30 pm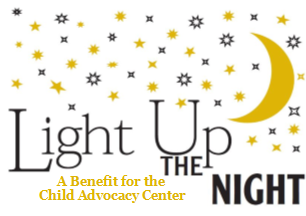 LIGHT UP THE NIGHT SPECIAL EVENT
Bringing Child Abuse into the Light & Shining a Light on Prevention
Friday, September 6, 2019 (tentatively)
Oakland's Mansion
6:30 p.m. – 9:30 p.m.
ADD YOUR OWN LIGHT TO THE NIGHT BY WEARING ALL WHITE!
Dance through the night under the stars; listen to good music; mix and mingle; enjoy delicious food; and make your own memories of the night you wore all white to light up the night for child abuse awareness!
Proceeds from the event will support crisis intervention services for child abuse and child sexual abuse victims and their non-offending parents and grandparents. The Child Advocacy Center works as a team with Department of Children's Services, law enforcement and the District Attorney's Office to investigate child sexual abuse cases, aggressively prosecute offenders, and help child victims and their families heal from the trauma.
"Child sexual abuse and other crimes against children often occur in the dark. This event is bringing light to the serious issue of child sexual abuse," concluded De Boer. "Come out and support the youngest and most vulnerable crime victims in our community—child sexual abuse victims."
SPONSORSHIPS ARE AVAILABLE!
For information on sponsorship levels and benefits, please call the campaign coordinator, Monica Watson, at 615-867-9000.
Ticket prices are TBA
WATCH FOR MORE INFORMATION TO COME SOON!
FACTS AND SOURCES ABOUT CHILD ABUSE TODAY
"1 in 4 girls and 1 in 6 boys are sexually abused before the age of 18."
The Advocacy Center: The Facts About Youth Sexual Abuse. (n.d.). The Advocacy Center: The Facts About Youth Sexual Abuse. Retrieved from http://www.theadvocacycenter.org/adv_abuse.html
"There are more than 42 million survivors of sexual abuse in America."
National Association of Adult Survivors of Child Abuse. (n.d.). Statistics of Child Abuse | NAASCA.org – National Association of Adult Survivors of Child Abuse. Retrieved from
http://www.naasca.org/2012-Resources/010812-StaisticsOfChildAbuse.htm
"More than 90% of sexual abuse is committed by someone the victim knows, loves or trusts."
U.S. Department of Justice (n.d.). Missing and Exploited Children Training. Retrieved from http://mecptraining.org/wp-content/uploads/Child-Sexual-Abuse-MECP-presentation2.pdf
"There are nearly half a million registered sex offenders in the U.S. – 80,000 to 100,000 of them are missing."
National Center for Missing & Exploited Children. (2013) Map of Registered Sex Offenders in the United States. Retrieved from http://www.missingkids.com/en_US/documents/Sex_Offenders_Map.pdf
"95% of sexual abuse is preventable through education and awareness."
The Child Molestation Prevention Plan. (n.d.). Child Molestation Research & Prevention Institute. Retrieved from http://www.childmolestationprevention.org/pages/prevention_plan.html
"The FBI estimates that there is a sex offender living in every square mile in the United States."
Protect Children From Sexual Predators in Your Area. (n.d.). National Sex Offenders Registry. Retrieved from http://www.registeredoffenderslist.org/parent-resources.htm
"30% of sexual abuse is never reported."
Child Sex Abuse Prevention and Protection Center (n.d.) FAQs About Child Sexual Abuse. Stop It Now. Retrieved from http://www.stopitnow.org/faqs
"Most sexual abuse happens to children between the ages of 7 and 13."
Snyder, H. N. (2000). Sexual Assault of Young Children as Reported to Law Enforcement: Victim, Incident, and Offender Characteristics Washington, DC: U.S. Department of Justice, Office of Justice Programs, Bureau of
Justice Statistics. Retrieved from http://www.bjs.gov/content/pub/pdf/saycrle.pdf