RCBBN Fall Business Showcase on #SmallBusinessSaturday
November 30, 2019 @ 10:00 am

-

4:00 pm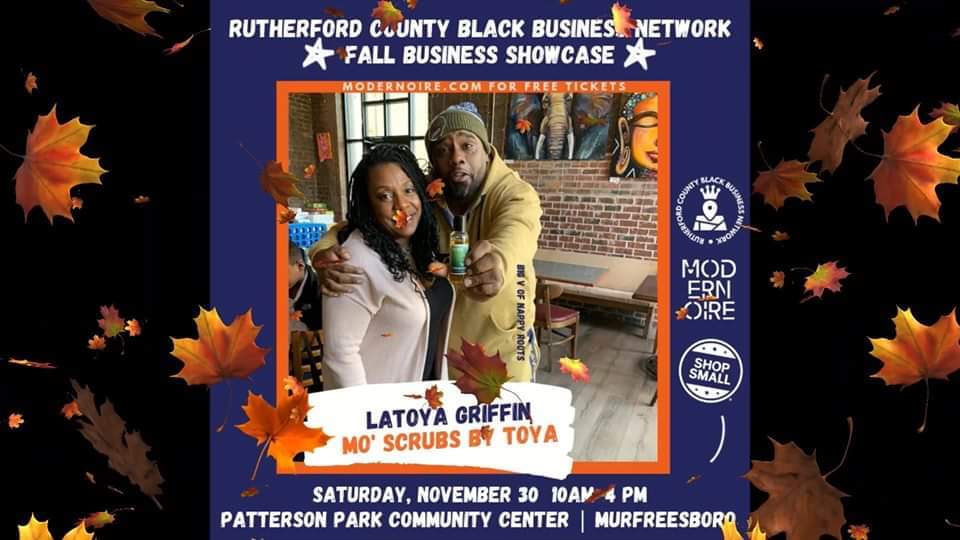 For the 2nd time this year, Rutherford County Black Business Network is showcases top minority- owned businesses, minority business professionals, and minority entrepreneurs serving Rutherford County!
Kick off a joyous holiday shopping season with us! Join us a one of a kind marketplace of crafters, entrepreneurs, and business owners. We'll have a live DJ, craft activities for kids AND adults, giveaways, a hot cider bar, and more!
This event is free to the community thanks to the partnership of the participating businesses, sponsors, and volunteers!
American Express founded Small Business Saturday and continues to proudly back it. American Express has provided extensive programming and materials that we will be using for our community organizations and small businesses that participate in Small Business Saturday!
Here are our Showcased Businesses for Fall 2019!
4Curls, Marissa Young
Always Beautiful by Erin, Erin Buchanan
Aubree's Bonnet, La Keisha Marable
B Chill Lemonade, Kinyah Bean
Black Business Boom, Danielle McGee
Boro Town Cakes, Lisa Rouse
Brantley's Life-Saving Services, LLC, Tasha Brantley
Bryte Photo Booth, Alonzo Stanley
Chalk It Up, Lakika Scott
Couture Massage, Elmira Loftin
Cricket Wireless
David Hartwell, Hartwell Entertainment
D'Clazzique Hair, Dr DaShaunda Turner
Elite Medical Coding, LLC, Latishia Dowdy
Focused Word, Cedric Dukes
Forlanda Anderson, Author
Kandles By Kierra, Kierra Perkins
Kimtopia Balloons, Kimberly Edgers
Lillie B's Divine Sweets, Barbara Walker
Liyah's Lips, Ta'liyah Williams
Lelan's Flowers, Kenneth Rollins
Mobile Jewelry Boutique, Veronica Wiley
Mo Scrubs by Toya, Latoya Griffin
One Chance Bookkeeping, Shanderia Montgomery
Original People, Tina Molette/Ronald Horton
Primerica, Cassandra Scott
Queen Rosmon Bling dba Paparazzi Accessories
Rada Cutlery, Erica Cashaw
Talking Planets Book, Author Jada Scott
Tequilas Upscale (Food Truck), Tequila Yancy
Timeless Travel with Tara, SeTara DeThrow
The Reignbow Collection, Erica Stovall White
Trichel Esthetics, Linda Trichel
Unrefined Naturals, Ashley Pruitt
Zaakirah Nayyar, Author
Interested businesses can apply at www.TaiishaBradley.com/showcaseapp though October 30.