Fill-A-Truck for Thanksgiving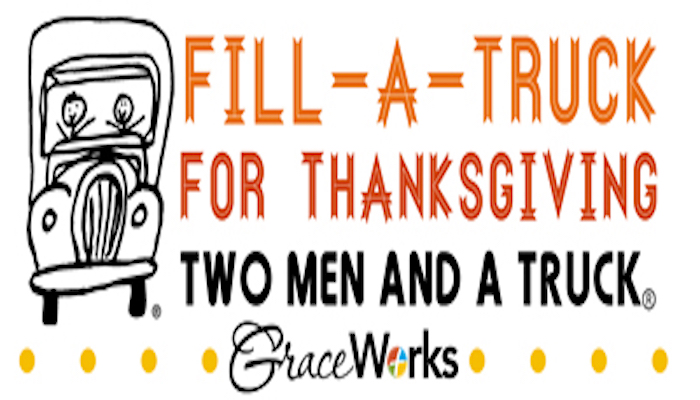 TWO MEN AND A TRUCK® Brentwood-Franklin and Murfreesboro will be holding the sixth annual conclusion drive for Fill-A-Truck for Thanksgiving on November 15 and 16. These all-day food drives will be held at the Kroger on 2946 S Church Street in Murfreesboro on November 15 and at the Franklin Kroger on 1203 Murfreesboro Road on November 16. Over the past six years TWO MEN AND A TRUCK® has donated over 8000 pounds of food to help feed those in need during the Holiday season. All proceeds will go to GraceWorks Ministries.
Look for the TWO MEN AND A TRUCK® moving truck in front of each Kroger from 10:00 AM until 6:00 PM collecting non-perishable goods. Items in need are granola bars, Easy Mac, fruit/applesauce cups, jelly, stews, boxed meals and mashed potatoes, and personal hygiene/cleaning supplies. Help TWO MEN AND A TRUCK® feed Williamson and Rutherford Counties and achieve their goal of filling up a 26-foot truck full of food for GraceWorks Ministries! More information and a critical needs list can be found at twomenbrentwood-franklin.com.
TWO MEN AND A TRUCK® is the largest franchised moving company both in the United States and internationally. Currently there are more than 240 national locations and 1,500 trucks operating in the U.S.; in total, the company operates 260 locations and 1,600 trucks. TWO MEN AND A TRUCK® has performed more than 4.5 million moves since its inception in 1985. The company has seen consistent monthly growth dating back to December 2009 and more than 20 months of double-digit growth. Each location is independently owned and operated.