Habitat for Humanity Receives Nissan Grants to Help Build Affordable Housing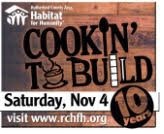 Rutherford County Area Habitat for Humanity (RCHFH) will receive a grant of $96,000 as part of a $1 million donation from Nissan North America to support local Habitats across the U.S. "We are so grateful for the continued support from Nissan over the past 12 years," states Terri Shultz, Executive Director RCHFH. "Their commitment and dedication of volunteers helps us build quality, affordable, sustainable houses while partnering alongside low-income, working families."
Nissan employees will volunteer with Habitat in 13 communities working alongside families on home construction and revitalization projects. Nissan is also providing five Habitat organizations with Nissan TITAN trucks to be used to transport construction tools and materials. Construction for this year's Nissan Build in Rutherford County will be at 105 Lytle Street in LaVergne, TN from November 1, 2017 through January 15, 2018. Nissan employee volunteers will be on hand throughout the build and are much appreciated for their construction and tool skills.
The house is being constructed for Habitat Future Homeowner Alicia, a single mother who has been homeless and moving from one place to another, often staying with friends or relatives. Alicia works hard but does not qualify for a traditional mortgage. She has completed her 30 weeks of Habitat's Financial and Homeowner Education Program and is finishing her 300 hours of Habitat "sweat equity" by working on other Habitat builds. She enjoys learning how houses are built and skills that can be used to maintain her home. "I know that becoming a homeowner will be a lot of responsibility, but it is a good responsibility, something I have been working towards for a long time," she adds. Alicia's bio and build information can be found at http://www.rchfh.org/2017-nissan-build/.
"Nissan's mission is to enrich people's lives, so we value our partnership with Habitat for Humanity because it helps to build sustainable communities in the areas where our employees live and work," said Rebecca Vest, Nissan vice president, Corporate Development and Social Responsibility. "Our employees look forward to working alongside future homeowners as they build their homes. The work is enriching for those families and for our employees as they make memories that will last a lifetime."
Nissan has contributed more than $15 million to Habitat nationally since the partnership began in
2005 when Nissan donated 50 trucks and mobilized employees to assist in home building following Hurricanes Katrina and Rita in the Gulf Coast region. Nissan has continued its support through the years by donating an additional 93 trucks and helping to build 85 homes across the U.S. Furthermore, Nissan's employees have logged more than 97,000 volunteer hours with Habitat for Humanity.