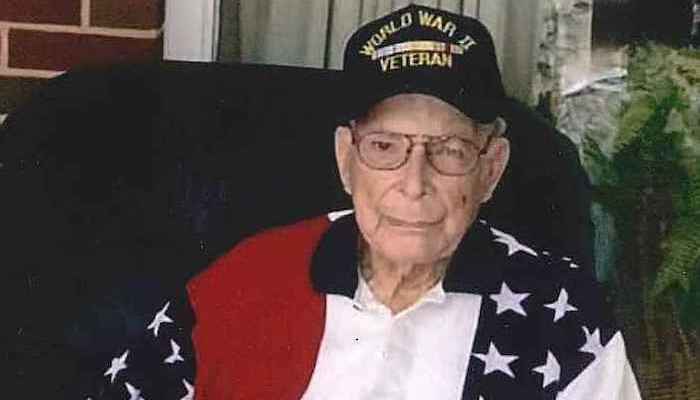 Hoyte Randol Barrett, age 95 of Murfreesboro, TN passed away on December 16th , 2018. He was born in Cannon County to the late Chesley H. Barrett and Linna Hoover Barrett. Mr. Barrett lived in Rutherford County for 50 years. He is also preceded in death by his wife, Mary A. Barrett; daughter, Joyce Karper; and son, Lynwood Barrett.
Mr. Barrett served in the Navy in World War II on the USS Tennessee. He traveled around the world on the ship, and worked in the bottom purifying water for drinking. His daughter, Elizabeth, was 18 months old before he saw her for the first time. He began working as a carpenter when he returned to civilian life. For several years, he worked for L.L. Poe Construction, where he learned the trade. He then established his own construction company, Hoyte Barrett Construction, in Murfreesboro. He was well known for his construction work in Middle Tennessee, where he did work at MTSU, the old Rutherford hospital, Georgetown Condominiums, doctor's offices, and private homes. He did remodeling for several homes on Main Street.
Mr. Barrett and his wife Mary enjoyed traveling and camping. They traveled to all 50 states and 7 Canadian provinces. He was a past president of the WWCCA Airstream Club and was a member of the Small Business Association.
Mr. Barrett is survived by his daughter, Elizabeth B. Bauman of Woodbury, TN; step-daughters Millie Leiter and husband Elmer of Murfreesboro, TN, and Allison Gromen and husband Fred of Austiin, TX; son-in-law Gary Karper of Woodbury, TN; 12 grandchildren, 18 great-grandchildren, 11 great-great-grandchildren, and many friends.
The family would like to thank Mr. Barrett's caregivers, Margaret, Tammy, Janet, Lori, Betty, Ellen, and Amedisys Home Health for their special care, and all the nurses at St. Thomas Rutherford for their excellent care.
Visitation with the family will be Tuesday, December 18th , 2018 from 4:00 PM to 8:00 PM at Woodfin Memorial Chapel. Funeral services will be on Wednesday, December 19th , 2018 at 2:00 PM at Woodfin Memorial Chapel with burial following at Evergreen Cemetery.
In lieu of flowers, donations may be made to St. Jude's Children's Hospital.
An online guestbook is available for the family at www.woodfinchapel.com. Woodfin Memorial Chapel, (615) 893-5151.