Julius Caesar is coming to Murfreesboro for 1 weekend only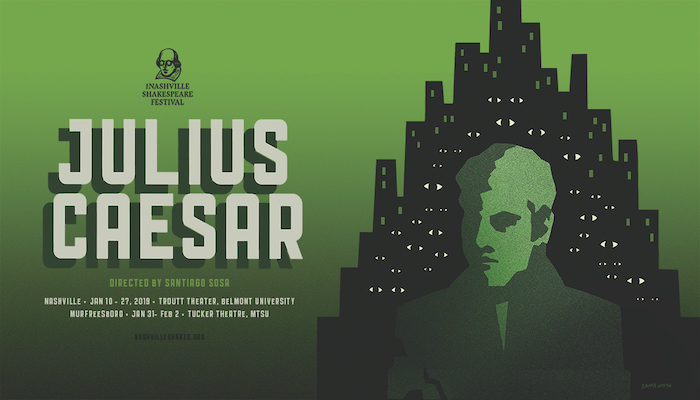 The Nashville Shakespeare Festival's 12th annual Winter Shakespeare production is the political thriller Julius Caesar directed by Santiago Sosa. This edgy, action-packed production will tell the story of the assassination of Rome's charismatic dictator Julius Caesar in a compelling, Roman-noir re-imagining where conspiracy thrives in the shadows and dark corners of the city. The show runs January 10-27 at Belmont's Troutt Theater in Nashville and then at MTSU's Tucker Theatre in Murfreesboro from January 31- February 2, 2019.
Playing the role of Julius Caesar is veteran TV and Broadway actor, Chuck Wagner. Chuck has enjoyed an extensive career that spans 4 decades. Highlights include playing the title role in TV's science-fiction series Automan in the 1980's and several starring roles in some of Broadway's biggest hits like, Javert in Les Miserables, the Beast in Disney's Beauty and the Beast, and Rapunzel's Prince in the original cast of Sondheim's Into the Woods. "Shakespeare is at the heart of my theatrical education," he says, "and I look forward to sharing it in January with old and new friends." Artistic Director, Denice Hicks, adds, "We are so fortunate to have Chuck Wagner joining the cast. He brings a lifetime of professionalism and passion for great theatre to this project."
"The timelessness and timeliness of this play never cease to amaze me. This is a 400-year-old play about people who lived over 2,000 years ago and yet their hopes, fears, ambitions, and sorrows are true and relatable today. The rhetoric resonates in our politically charged times," says Ms. Hicks.
Nashville Shakes favorites in the cast include Sam Ashdown, returning to Nashville after his critically acclaimed performance in the title role of NSF's 2018, Hamlet, Melinda Sewak, Morgan Davis, Andrew Johnson, Matthew Cruz Benenson, Miranda Pepin, and Antonio P. Nappo. Joining the company for the first time are Josh Inocalla, Ang Madeline Johnson, Natalie Rankin, Chamberlin Little, and regional powerhouses Christopher Joel Onken and Jordan Gleaves.
Realizing the shadowy, neo-noir aesthetic of the play is lighting and set designer Phillip Franck and returning NSF composer, Natalie Bell, will design the suspenseful soundscape. The abundant violence in the play will be co-choreographed by Fight Director, Eric Pasto-Crosby, and Sosa.
Performances at MTSU's Tucker Theatre (615 Champion Way, Murfreesboro) performances are Jan 31 – Feb 2, Thursday – Saturday at 7:30pm. Tickets are $30 in advance / $33 at the door. Purchase at nashvilleshakes.org or at https://app.arts-people.com/index.php?show=94637
All of NSF's programming is supported in part by the Tennessee Arts Commission. Julius Caesar is supported in part by Shakespeare in American Communities, a program of the National Endowment for the Arts in partnership with Arts Midwest. The Nashville Shakespeare Festival is one of 40 professional theater companies selected to participate in bringing the finest productions of Shakespeare to middle and high school students in communities across the United States.