Ladies Night in the "Wedding Dresses Through the Decades" Exhibit at Oaklands Mansion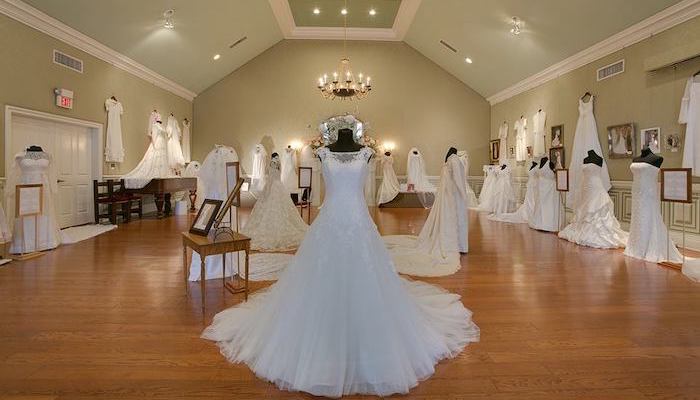 Grab a group of friends and join us for Ladies Night! Spend time walking through the vintage dresses and visit exhibit sponsor, Karen Whitaker with Ruby Ribbon on February 22, 2019, from 6:00-8:00pm. Tickets are $10 per person and can be pre-purchased at www.oaklandsmansion.org.
Karen Whitaker, a stylist for Ruby Ribbon, will showcase innovative products that seamlessly combine fit, function and fashion. The spring collection includes everything from tops, tunics, hoodies and tanks to leggings, intimates, and shape-wear.
"Each year groups of ladies from bunko, church small group, co-workers, and college girlfriends come and enjoy the exhibit together," said Mary Beth Nevills, Education Director of Oaklands, "This is a night for them to enjoy these vintage treasures."
"Wedding Dresses Through the Decades" Stories of our community will come to life through wedding gowns on display at Oaklands Mansion, where every dress tells a love story. Step back into time and experience the common threads that weave together the lives of women as we explore women's history, fashion history, cultural history and the history of our community. Over fifty gowns have been placed on loan and exhibited, most for the first time. The "Wedding Dresses Through the Decades" exhibit in Maney Hall at Oaklands Mansion takes place from January 19 through March 3, 2019.
Ladies Night on February 22nd in the exhibit is open from 6:00 p.m.-8:00 p.m. and is a come- and-go event. Tickets include admission to the wedding dress exhibit, a showcase of Ruby Ribbon comfort clothing for women, and more. The Wedding Dresses Through the Decades Exhibit is sponsored in part by the Human Sciences Department of Middle Tennessee State University, Chelsea Place Apartments and Karen Whitaker with Ruby Ribbon. Tickets can be purchased online at oaklandsmansion.org. For more information, contact Mary Beth Nevills at Oaklands (615) 893-0022 or email mb@oaklandsmansion.org.