McCluskey Promoted to Battalion Chief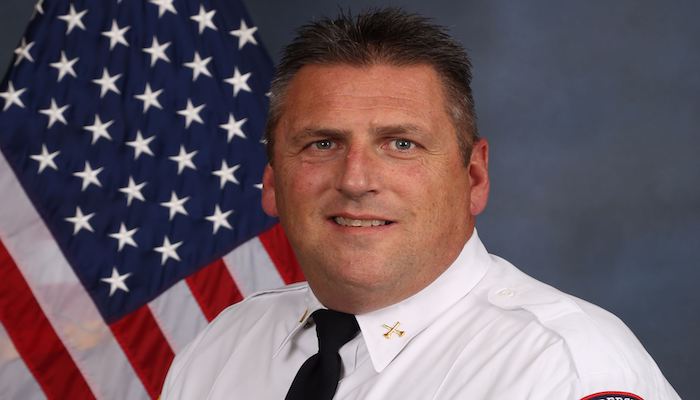 Murfreesboro Fire Rescue recently promoted Captain Mark McCluskey to the position of Battalion Chief.
McCluskey began his career as a Firefighter with MFRD in February 1985. He was promoted to Driver in 1989 and Captain in 1998. He will assume the Battalion Chief role on February 1.
"We are excited to add Mark to our Operations Team as Battalion Chief," said Fire Rescue Chief Mark Foulks.
As for McCluskey, he is eager to get started. "I'm honored and humbled to be selected for this position. I look forward to working with both shift and administration personnel."
Meet McCluskey
A former Special Operations Captain, McCluskey is certified as a Hazardous Materials, Confined Space, and Rope Rescue Technician and is also trained in Swiftwater Rescue. He has had various courses that have prepared him for this position including: Command and General Staff IMT, Fire Officer II, Fire Instructor II, and Fire Inspector. He is also a certified Advanced Emergency Medical Technician.
McCluskey serves on the department's Special Events Team, Succession Committee, and Yearbook Staff. He is involved with the Tennessee Fire Safety Inspectors Association, International Association of Fire Fighters, and the Rutherford County Chamber of Commerce.
He and wife, Wendi, have been married 15 years and have two children, Michael and Mary Faith. In his spare time, he enjoys spending time with his family playing ball. His son plays on the "TN Aces" travel ball team and in the Murfreesboro Baseball Association (MBA) league; his daughter plays for Blackman Middle School, the "Lightning Elite" travel team, and the MBA league. McCluskey jokingly adds, "If I'm not at the ballfield, I try to get in a day of fishing or a round golf."