Middle Tennessee Magic Club Begins Meeting at Linebaugh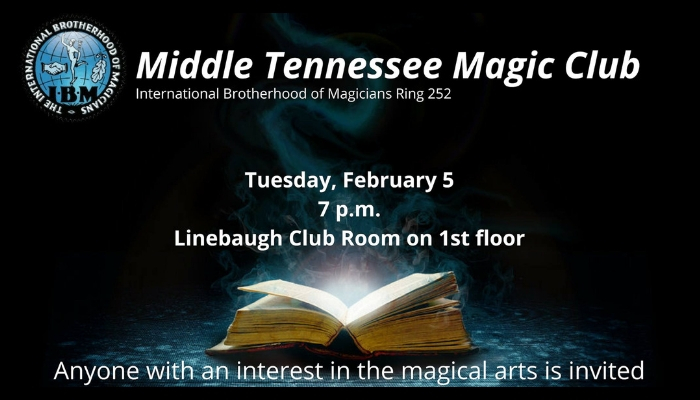 The Middle Tennessee Magic Club. Welcome to the area's finest magical organization. This chapter (or Ring) is part of the International Brotherhood of Magicians, a nonprofit organization that is one of the oldest and most respected societies of Magicians in the world. Their goal is to promote, advance and present entertaining magic to all audiences while preserving the heritage of their craft and passing along its time honored traditions to future generations.
They meet the 1st Tuesday of each month at 7:00 PM in the 1st floor Club Room or in the 2nd floor Board Room (May-July only) at the Linebaugh Library in Murfreesboro, Tennessee. Anyone with an interest in the magical arts is encouraged to drop by for a visit to any of their meetings. The future of magic in middle Tennessee has never been more exciting and they want to share it with you. The magic carpet is always rolled out for you at The Middle Tennessee Magic Club.
For more information please contact the Linebaugh Library at (615) 893-4131