Mitsue Williamson obituary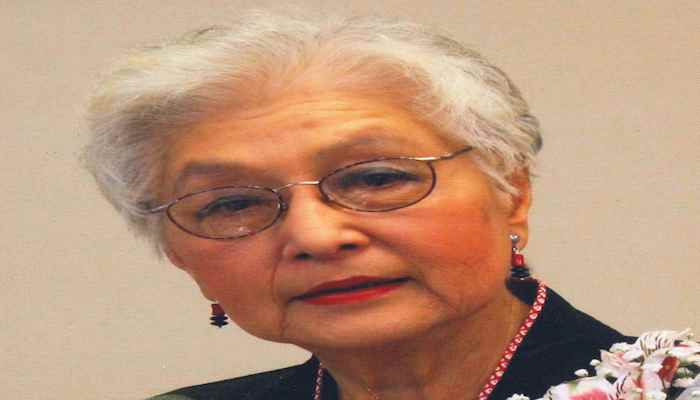 Mitsue M. Williamson, age 88, formerly of Murfreesboro, Tennessee, died peacefully on Friday, January 19, 2018 in Griffin, Georgia. She was ushered into eternity by her daughter and her son who shared the same unending love for her that she bestowed upon them. Along with her husband who preceded her in death, she desired to improve the lives of others and was known for her tireless efforts to serve and care for her family, the family dairy farm and her rural Blackman community.
Mitsue was born in Isesaki, Japan on March 13,1929, to Toramatsu and Naka Matsubara. As a child, she helped her parents run their family produce market as she attended grade school and preparatory school. As World War II approached, she became a seamstress in a garment factory. After the war's conclusion, she served as a desk clerk in Tokyo at the Dai-ichi Hotel where she met her husband, Bascom Williamson, who was serving in the post war efforts to restore the agricultural industry of Japan, Korea and the Philippines. They were married in 1952. In 1953 they traveled throughout Europe on their way to Murfreesboro, TN, where they established a family dairy farm in the Blackman community. She became a life-long learner of English and joined in her community as she learned American ways. She was lovingly welcomed by Bascom's mother, Delia, and by the ladies of the community as they took her in and shared their lives and hearts with her. In return, she gave her time, talents and treasures in selfless service to the welfare of others.
She was a tireless homemaker and support for Bascom as she prepared healthy farm meals, nurtured their massive garden, took the afternoon milking shift while the rest of the family managed the fieldwork and then worked until the wee hours of the night, shelling beans, freezing, canning, and picking out pecans and walnuts and sewing clothes for the family.
Her community involvement included 50 years of faithful attendance with the Blackman Home Demonstration Club (never missing a meeting), the Farm Bureau Women, the Blackman Community Club, and the Unitarian Universalist Fellowship of Murfreesboro. She was a Pink Lady with the Murfreesboro Hospital Auxiliary organization, giving thousands of volunteer hours. She was active at the Murfreesboro Senior Citizen's Center, helping others perfect their bridge game and dancing with Bascom at numerous parties. Her greatest love was for her husband. Being totally devoted to him, she was the purest example of a "help meet" until the day he died.
Mitsue remained on the farm as long as possible. She moved to Griffin in January 2011 to be closer to her daughter as she transitioned to Brightmoor Assisted Living, where she resided for all but the last two months of life.
She was preceded in death by her husband, Mark Bascom Williamson, as well as her parents and siblings. She is survived by her daughter, Toni Williamson Turner (Jerry) of Griffin, GA and her son, Mark Bascom Williamson (Alice) of Statesville, NC. She is also survived by her grandchildren, Sean Turner of Griffin, GA, Justin Turner of Lawton, OK, Kirk Williamson of Washington, DC, Clark Williamson of Chapel Hill, NC and John Mark Williamson of Raleigh, NC, in addition to her great-granddaughter, Kaitlyn Turner.
A memorial service to celebrate Mitsue's life will be held at Woodfin Memorial Chapel, 1488 Lascassas Pike,
Murfreesboro TN on Saturday, January 27, at 11 am with a reception to follow at The Grove at Williamson Place, 3250 Wilkinson Pike, Murfreesboro, TN. The family will receive friends from 10 to 11 am prior to the service and at the reception. The family plans a private burial.
In lieu of flowers, memorials may be given to the Unitarian Universalist Fellowship of Murfreesboro, TN, P.O. Box 976, Murfreesboro, TN 37133, the Griffin Area Habitat for Humanity, 1386 Carver Road, Griffin, GA 30224, and Young Life of Iredell/Statesville, 828 Wesley Drive, Statesville, NC 28677.