A modern twist to Shakespeare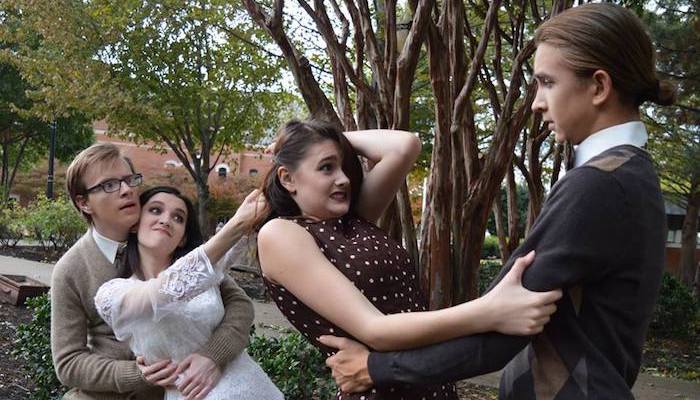 Head to The Center for the Arts to see the classic Shakespeare play A Midsummer Night's Dream with an Art Deco twist. The show opens on November 2 and runs through 11th.
The Center's version moves up the timetables to the roaring 20's, complete with cast members heading to the speakeasy to dance the Charleston.
"I'm excited to bring this new take on Shakespeare to Murfreesboro," said Patience long, Executive Director. "The Directors, Connie and George Downer, are well versed in Shakespeare and have worked very hard to make this show relatable to today's audience."
The Downers were introduced to the Center when their son enrolled in its Center Stage Academy Performing Arts Class about two and a half years ago. Since then, George has been cast in several shows including The Little Shop of Horrors and A Christmas Carol, taking on the lead role Ebenezer Scrooge.
A Midsummer Night's Dream is a fantasy comedy written in 1595. The overarching theme of the show is the transformational power of love. Connie Downer said, "We chose to set this play in the 1920's because of the transformative processes America was experiencing at the time. It was a time of transformation in art, music, and fashion. A time when society's norms were transforming particularly the role of women in society.
A Midsummer Night's Dream features women pushing boundaries and the men who love them in spite of it all with characters such as Helena steadfastly pursuing her love against all the odds, Hermia defying her father to be with the man she chooses, Hippolyta retaining her independence within her relationship with the Duke, and Titania going head to head in battle against her powerful husband.
This production features a mixture of both familiar and new faces to the Center for the Arts stage. Among the cast are Rachel Hortert (Hermia), Sam Downer (Lysander), Aurora Boe (Helena), Benjamin Hansen (Demetrius) who play the four lovers of the royals. Adam Boe (Oberon) and Valerie Conover (Titania) play the King and Queen of the faeries with Jordan Scott (Puck) as their main faeire assistant. CFTA veteran Dakota Green (Bottom) is among the mechanicals (a theater troupe) who are comprised of Chris Gurley (Quince), Jordan Taylor (Flute), Stephen Turner (Starveling), Sam House (Snug), and Cameron Anteski (Snout). Rebekah Thoe (Hippolyta), Ryan Green (Duke Theseus), Eric Massengill (Egeus), Carol Clarke (Philostrate) make up the remaining royals.
This production is rated PG-13
A Midsummer Night's Dream runs from November 2-11, and is sponsored by Murfreesboro Breakfast Rotary.
Tickets are available online at boroarts.org or by calling the Center at 615-904-ARTS (2787)
A MIDSUMMER NIGHT'S DREAM PERFORMANCE DATES:
November 2-11
Fridays & Saturdays 7:30 pm and Sundays 2:00 pm
Saturday November 10th will also have a matinee at 2:00 pm
PERFORMANCE VENUE:
The Center for the Arts 110 W College St Murfreesboro TN 37130
A MIDSUMMER NIGHT'S DREAM TICKETS:
Adult: $15.00, Seniors (60+)/Students (12+)/Military: $13.00, Children: $11.00
Discount of $2.00 per ticket for groups of 10 or more. Call 615-904-2787 for group reservations.

TICKETS & SEASON PASSES:
boroarts.org 615-904-ARTS (2787)
The Center for the Arts has just released its 2019 show season starting with Newsies running from Jan. 11-27. Season passes are now available.