MTSU showcases entrepreneurship with guest speakers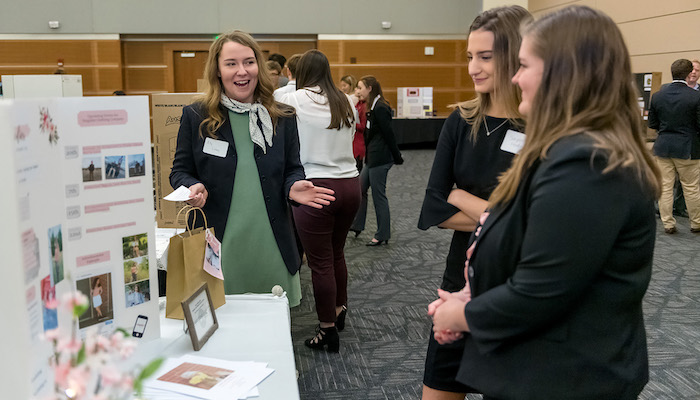 MTSU students aspiring to be entrepreneurs received a wealth of advice and insights – from the importance of networking to succession plans to following their passions – from an enthusiastic lineup of guest speakers for this year's Global Entrepreneurship Week activities.
The Department of Management and the Pam Wright Chair of Entrepreneurship in the MTSU Jones College of Business hosted the Nov. 12-15 event, which also included the fourth annual Entrepreneurship Fair for close to 150 area high school students.
Among guest speakers was Oakland High graduate and MTSU alumna Erica Rains, co-founder and co-owner of Nashville-based The Chef and I restaurant and catering company. She spoke to a room of 200-plus students about her journey of starting the "interactive culinary experience" concept with husband and professional chef Chris that continues to add locations in the region.
Rains encouraged students to connect with agencies such as the Small Business Administration, SCORE and chambers of commerce where experts are available to provide invaluable advice to help aspiring entrepreneurs develop business plans and discover resources to help them bring their visions into reality.
"Our story includes going out to — I don't know how many, sometimes it was three a day — networking events, for years … me, telling our story and that's kind of how we grew," she said.
That journey also included a sometimes bitter taste of reality television, learning about business tax laws the hard way and recognizing the need to diversify your customer and product base as your company grows. But learning media strategies, discovering an accountant's value and launching new products were outcomes that propelled the business forward, she said.
MTSU senior Darrin Turner, an integrated studies major from Nashville, Tennessee, liked Rains' advice for entrepreneurs to find people who are better than they are at a given task or responsibility — such as accounting — especially when that task isn't an area of strength or skill but is integral to the company's success.
"I think that's very inspirational and I think that's a great way to be a leader," said Turner, who has a passion to become a school counselor. "That balances out and creates chemistry within the organization to make it successful."
Scheduled to graduate in December, Turner hopes to become a counselor for Murfreesboro City Schools' Extended School Program, or ESP.
Keynote speaker Dennis Phillips II said he was excited to share his insights with "the next generation of business leaders" who will soon decide whether they want a job, a career or vocation. Phillips, a mortgage lender for iServe Residential Lending's Murfreesboro location, said he's spent a good portion of his professional life on coaching people how to find their destined career path.
"They need to understand the mindset behind winning," Phillips said of the high school and MTSU students in attendance. "There's a mindset that can cause you to win … I want them to find out who they are, I want them to find out what they're passionate about. And they can use their career to change their community, to change their town.
"They can use this as a platform to change the world around them."
Phillips' passion has rubbed off on his son, Ben, a senior at Middle Tennessee Christian School, one of eight high schools participating in a fair that allowed students to set up displays and pitch their ideas to MTSU business faculty and community judges, who then provided feedback.
Phillips and his team pitched an idea centered on an EpiPen "purse" that provides an insulated casing to keep the epinephrine injection at the proper temperature to be effective in combatting life-threatening allergic reactions.
"Mostly (judges) thought it was creative, but it was a matter of who would fund it," Phillips said. "It was good to hear that and get good feedback, but also understand the things that we needed to fix."
Jessica Supakhan, a business education teacher at Holloway High School in Murfreesboro, said her school has participated at the fair since its inception. She was thrilled to watch as her student, senior Netecia Gooden, receive a plaque as the Social Enterprise Award winner for her business idea, Back on My Feet, which involved a social rehabilitation program for people who were previously homeless.
"It's good to have that adult interaction," Supakhan said of the fair. "Most of the time they only get that during a job interview, so this is not only building their confidence, but exposing them to professionals, networking, and getting their ideas out there. They can see that other young people are building businesses … and it is possible to do that."
The overall winner at the fair was Summit High School student Ally Losey for her business idea for the Singulier Clothing Company, with second place going to Luke Olson and Trajan Parkes of Franklin High School for their UV Clean idea, and third place to Central Magnet School's Jacob Brown and Marissa McDermaid for their pitch for Unified Central Investment Firm.
Participating high schools included Central Magnet School, Holloway High, Middle Tennessee Christian School and Siegel High in Murfreesboro; Summit High and Franklin High in Williamson County; Columbia Central High, Mt. Pleasant High and Santa Fe School in Maury County.
The week wrapped up with entrepreneur and career coach Jena Viviano, a former Wall Street investment banker who now runs a consulting firm in Nashville. Viviano spent a portion of her remarks advising students to take advantage of the LinkedIn, the increasingly popular digital networking platform for professionals.
"Make sure you're putting internships, make sure you're putting volunteer experience on there," she said. "Make sure you're putting any leadership type positions you've had. Make sure that you're putting down specific projects that you're really proud of that you'd want to talk about in an interview."
Viviano said the digital platform is extremely useful in finding established professionals in a career of interest and reaching out to them directly for advice, insights and occasionally help landing that first or next job. She mentioned the recent announcement that Amazon will be locating a large operation center in Nashville and how LinkedIn could be a way to find Amazon staff with whom to connect.
"I've never gotten a job from applying online," she said. "My clients don't get jobs from applying online, they get their jobs through connections."
Joshua Aaron, assistant professor of management and the new holder of the Pam Wright Chair of Entrepreneurship, echoed her advice, encouraging students to take advantage of the connections their professors may have in their fields of interest.
"Take those conversations and names that we give you very seriously," said Aaron, adding that he observed a student who received contact information from guest speaker and alumnus Eric Rubin after his kickoff presentation Nov. 12, but didn't write it down.
"People give you jobs, not machines, not a piece of paper," he said. "Take those connections very, very seriously."
Rubin, a serial entrepreneur, got his start bartending while at MTSU before moving on to work for a distributor in Nashville. He has extensive consulting experience with beverage companies and is currently a partner in a spirits portfolio company, The Espiritus Group.
To learn more about MTSU's entrepreneurship program within the Department of Management, visit http://www.mtsu.edu/programs/entrepreneurship/.