Nation's Largest Youth Flag Football League Comes to Tennessee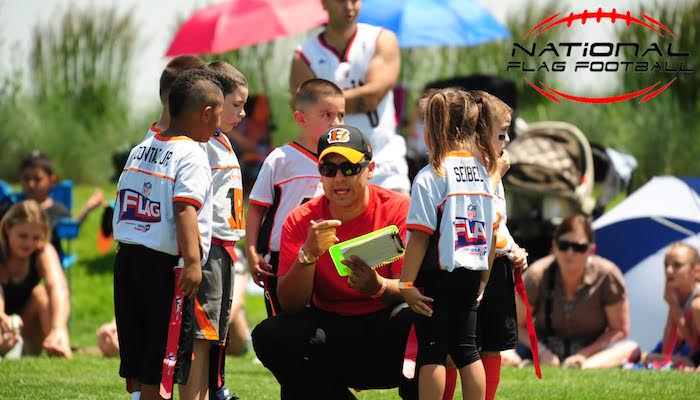 National Flag Football, the largest youth flag football organization in the country, is coming to Nashville and Memphis this Spring. The program provides girls and boys ages 4 – 14 a safe and fun football league for all skill levels and is designed to educate young people about football while emphasizing team building and sportsmanship.
A couple of our community partners share in our excitement in bringing the best of flag football to Tennessee; "We are excited to work with National Flag Football and Columbia Parks and Recreation to provide a positive team sport opportunity. Our youth will benefit from the skills instruction offered along with the valuable lessons learned through team sports." Larry W. Brown, EdS, District Athletic Director of Maury County Schools.
"The Goodlettsville Parks & Recreation Department is excited to partner with the National Flag Football League to offer a new athletic program for our community. This partnership will provide another excellent opportunity for our youth to gain the knowledge and fundamentals of the sport of flag football, while focusing on the importance of being active, making new friendships, and having fun." As quoted buy Dallas Long, Athletics & Events Coordinator, Goodlettsville Department of Parks, Recreation, and Tourism.
The league begins on April 2nd and ends May 21st , with Easter weekend off. Registration is open for the spring league through February 17th at www.Titansflagfootball.com. Once you are there please click on the "Register Now" button to start the process. We are here to help, so if you have additional questions or need help with the process, please do not hesitate to call our office.
All participants will receive a reversible National Football League (NFL) Flag Football jersey, representing one of the NFL teams, and flags that are theirs to keep at the completion of the season.
Teams will be formed by students from the same schools and grade, giving children the opportunity to participate as a team with their classmates. Practices are scheduled an hour before each game resulting in a one day a week commitment to the league. Games are played in a five on five format and provide our young players a fun and exciting opportunity to engage in non-contact, continuous action while learning lessons in teamwork. All games are officiated by certified and trained officials.
For more information please contact our office at 877-866- FLAG or visit our website at www.TitansFlagFootball.com.