New Course for 13th Annual Murfreesboro Half Marathon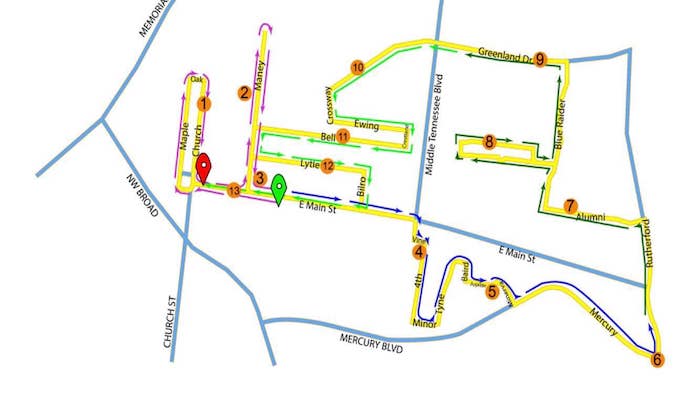 After 12 years, the Murfreesboro Half Marathon, or "The Middle Half" has changed its route. On October 12, two thousand runners will start near Central Magnet School on Main Street and finish the 13.1 mile race near the Square.
Registration opened June 1 with a registration limit of 2000 runners, and within two weeks is almost half filled.
"Runners are excited about the new course," said Melissa Miller, race director. "We've eliminated the portions that people complained about and added more of MTSU's beautiful campus. It is such a flat course that many runners from around the country use the race to train for full marathons or to set a PR (person record)."
Participants may register online by credit or debit card at www.themiddlehalf.com.
The course includes the Rutherford County Courthouse on the Square, scenic tree-lined Main Street and Maney Avenue, Oaklands Mansion and the newer portions of MTSU's campus.
Sponsors include The City of Murfreesboro, Murfreesboro Parks & Recreation Department, Fleet Feet Sports, Lee Company, and Publix. Sponsorships are available at various levels; email racedirector@themiddlehalf.com for more information.
Visit www.TheMiddleHalf.com or at facebook.com/TheMiddleHalf for additional information.