Oaklands Mansion Announces Homes Featured on the 2019 Christmas Candlelight Tour of Homes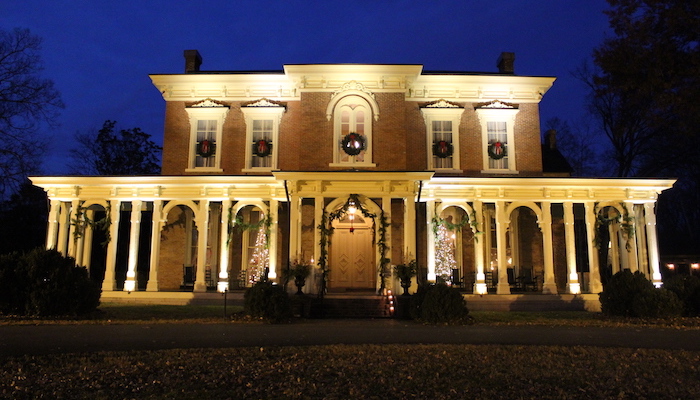 Usher in the holiday season with an enchanting tour of historic homes and landmarks. The annual Oaklands Christmas Candlelight Tour of Homes is slated for December 7, 2019, from 4:00 p.m. – 8:00 p.m. in Murfreesboro, Tennessee. The tour, sponsored in part by Franklin Synergy Bank, will feature beautiful and historic private homes, distinctive churches, and as always, the graceful Oaklands Mansion.
In addition to the tour, Oaklands Mansion will host a Holiday Marketplace in Maney Hall. A selection of local artisans and craftspeople will feature their wares for holiday shoppers. It's the perfect opportunity to make gift purchases for friends and family. Admission to the marketplace is included with tickets to the Christmas Candlelight Tour of Homes. In addition to the marketplace, see a live nativity displayed by Southeast Baptist Church's Bethlehem Marketplace. Be sure to stop by one of the food trucks for hot beverages and warm treats.
"The Candlelight Tour of Homes is a Middle Tennessee tradition thirty-six years in the making," said James Manning, Executive Director. "Tour goers love that they can begin at any location and, if they have not already purchased a ticket in advance at oaklandsmansion.org, they can buy one at any home on the tour. You can find the tour route and parking suggestions on our website."
Stops along the holiday tour include these historic buildings:
Oaklands Mansion & Cottage, 900 North Maney Avenue
Holiday Marketplace at Oaklands Visitors Center, 901 North Maney Avenue
Lindsey & Bill Castello, 512 East College Street
John C. Murphy, 518 East College Street
Lynn Clayton, 525 East College Street
Lacey & Kirk Garrett, 205 North University Street
Lavye Hayes- Gladstone #4, 549 East Main Street
Nena & Dr. Eric Egli, 602 East Main Street
Kenneth Stone, 550 East Main Street
Cedar Grove Primitive Baptist Church, 528 East Main Street
Purchase advance tickets (either online at www.oaklandsmansion.org or in the museum shop) by 4 p.m. on Thursday, December 5th and receive a special price of $20.00 for adults. Tickets purchased after 4 p.m. on December 5th will be available only online and at the door for $25.00 per adult and $10.00 for students ages 6-12. This event is free for ages 5 and under. On the night of the tour, tickets can be purchased at any home on the tour or at Oaklands' Museum Shop for $25 for adults and $10 for students ages 6-12.
The cornerstone of the tour is the grand Oaklands Mansion. At its peak, Oaklands was the center of a 1,500- acre plantation and one of the most elegant homes in Rutherford County. Since that time, Oaklands has seen dramatic changes. Following the Civil War, it deteriorated from a majestic mansion to virtual ruins and, in the 1950's, its very existence was threatened. The mansion was brought back from the brink of destruction, saved from the wrecking ball when a group of concerned ladies created Oaklands Association in 1959. Since that time, the Association has worked tirelessly to restore Oaklands to its original splendor and preserve its unique history.
The 2019 Candlelight Tour of Homes is made possible through the generous support of: Atmos Energy Corporation, Debbie & Mark Crocker, Cultivate Coworking, Durham Realty & Auction Co., Inc., Franklin Synergy Bank, Vera Greer, Hall Davidson & Associates Steve Fuchcar, CPA, Hylabrook Antique Mall, Mary Catherine & David Sevier, Judy & Thomas Smith, and Susan & Judge Royce Taylor.
Oaklands Mansion is a non-profit educational organization. For information on becoming a sponsor, please call (615) 893-0022 or email info@oaklandsmansion.org.