Please be on the lookout for Jesse Caldwell.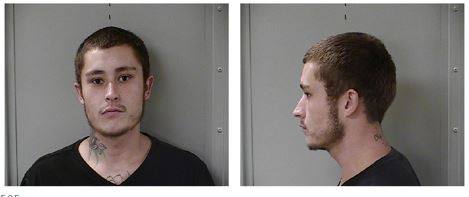 He is armed and dangerous and believed to be traveling in a 2012 white Kia Optima with Tennessee Registration W0516C. This vehicle was just reported stolen on Forest Avenue.
If you see him do not approach. Call 911 or your local law enforcement agency.
On 01/26/2018, at 1:21pm a resident of Forest Avenue in Shelbyville, Tennessee returned home to find his home had been ransacked. As the homeowner was in the process of assessing the situation he was met face to face with Jesse Caldwell. Caldwell pointed a firearm at the resident and demanded the homeowner turn over his car keys and other possessions. A scuffle ensued inside the residence and Caldwell ultimately fled on foot. It has been reported to the Shelbyville Police Department that Caldwell left the residence with two firearms that belonged to the homeowner.
Moments later a 2012 white Kia Optima was stolen from an adjacent residence on Forest Avenue.
Out of an abundance of caution schools in the area were placed on a temporary lockdown. This was the second lockdown of the day.
This is still an ongoing situation. The current whereabouts of Jesse Caldwell are unknown.
Caldwell is armed and extremely dangerous. Do not approach him. Call 911 or your local law enforcement agency.