Police: Vandals Shooting Murfreesboro Cars, Homes, Stores with BB Gun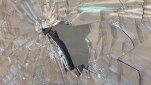 Murfreesboro police are on the hunt for vandals who have been going around the city shattering the windows of cars, homes, and businesses.
It appears the vandals have gone from targeting property to people.
Jeff Wallis opened a Boost Mobile location on North Thompson Lane in Murfreesboro three years ago, and it has been quite successful.
"One of the highest volume Boost dealers in the Middle Tennessee area," Wallis told News 2.
But last Wednesday, his business became a target. Someone fired a BB gun at the glass window, shattering it.
They also shattered the glass of the Naughty Knitter in the same building.
"Obviously it's something like a little BB gun or something because we have dual pane windows and it wasn't enough fire power to get through the second pane," Wallis explained.
Over the past two weeks, several windows of vehicles and homes were hit by BBs. One home was hit twice, once back in April and again last week.
"Gosh, at the damage they do, you know, just running around popping windows," Wallis said.
Police are still trying to figure out who's responsible.
"It's certainly possible that's it teenagers, young people, maybe with too much times on their hands," said Murfreesboro police spokesman Sgt. Kyle Evans. "To us, it doesn't matter. We want to find out who is responsible, put a stop to it, and hold them accountable."
"I'll be willing to guess it's some kid with a CO2 BB guns, running around popping windows for the thrill of it," Wallis told News 2.
A pizza deliveryman was also shot twice with BBs when his vehicle was fired upon six to seven times at the Carrington Park Apartments.
"While it didn't cause any injury to him, it's certainly alarming when someone shooting at you with a BB gun," Evans said.
Wallis said the vandal has taken things too far.
"Something like that could put an eye out, or if a BB hit you in the eye, it can go right in the brain and kill you. It sounds like it's not much, but it's deadly," he noted.
Police are also concerned that a person on the other side of the BB gun could mistake it for the real thing.
Unrelated to this case, last week two Vanderbilt football players were shot at a Target in West Nashville after using a BB gun trying to get a stolen cell phone back.
"When you have a BB gun, often times they are designed to look just like real guns so it's a very dangerous situation we want to put a stop to it as soon as possible," Sgt. Evans said.
That business owner said a local glass company told him workers have been busy replacing shattered glass hit by BBs in several Murfreesboro neighborhoods.
If you have any information that came be helpful to police call Rutherford County Crime Stoppers at 615-893-STOP.
VIDEO:
http://wkrn.com/2017/06/28/police-vandals-shooting-murfreesboro-cars-homes-stores-with-bb-gun/
Courtesy of WKRN News 2