Saint Thomas helps hundreds with free health clinic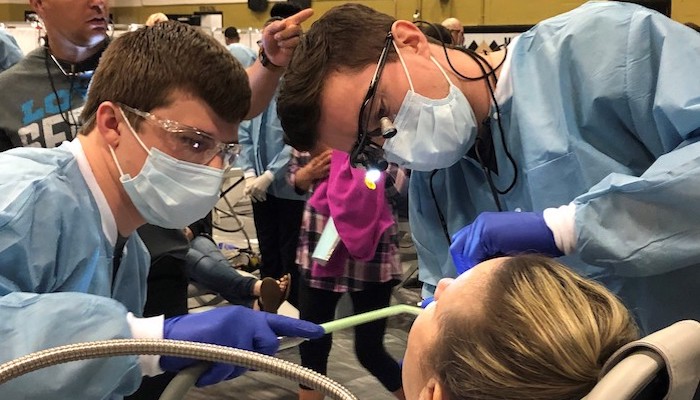 Ascension Saint Thomas offered Middle Tennesseans free medical, dental, and vision care on Saturday, April 13, 2019, at Rutherford County's Central Magnet School. 370 community members were served at this month's Medical Mission at Home.
Attendees received care between 8 a.m. and 1 p.m. on a first-come, first-served basis. Free pharmacy services, dental services, mammograms, vision services, foot and wound care, lab and imaging services, and behavioral medicine were provided. Flu vaccines and Hepatitis A vaccines were also available.
The Rutherford County Medical Mission at Home is a partnership with community organizations, including: Central Magnet High School, Hope Smiles, Rutherford Health Department, Touchpoint,
One Generation Away, Olive Branch Church, Volunteer Behavioral Health, Susan G. Komen, Operation Hope, Journey Home, Family and Children's Services, Legal Aid Society, CHI Memorial LDCT Bus, and Middle Tennessee State University. Event volunteers included 200 members of the Ascension Saint Thomas community, including physicians, nurse practitioners, nurses, pharmacists, chaplains, senior leaders, and hospital staff.
"Our Mission observes that the Ascension Saint Thomas community exists to build a compassionate and just society through our actions and words," said Gordon Ferguson, President and Chief Executive Officer of Saint Thomas Rutherford Hospital and Regional Hospitals. "The Medical Mission at Home event is a remarkable opportunity for us to live out our organizational principles by connecting vulnerable populations to quality care close to home."
"Medical Mission at Home events are a unique opportunity for us to work alongside other Middle Tennessee organizations that share our driving motivation – to show compassionate care to those in need," said Nancy Anness, Chief Advocacy Officer at Ascension Saint Thomas.
Founded by the Ascension Health Leadership Formation program as a ministry to the uninsured and underinsured, Ascension Saint Thomas Medical Missions at Home events have served more than 20,000 Tennesseans since 2008. At last year's Rutherford County Medical Missions at Home event, more than 275 participants received free services ranging from tooth extractions to diabetic risk screenings to mammograms. 175 lab tests were completed, 100 prescriptions were filled, and 85 pairs of eyewear were dispensed.
Ascension is the nation's largest Catholic and non-profit health system. Led by Ascension caregivers and partners, Medical Mission at Home healthcare clinics are held annually across the U.S. Events will take place in Davidson County and Warren County later this year.