Dog Haus Biergarten to celebrate Grand Reopening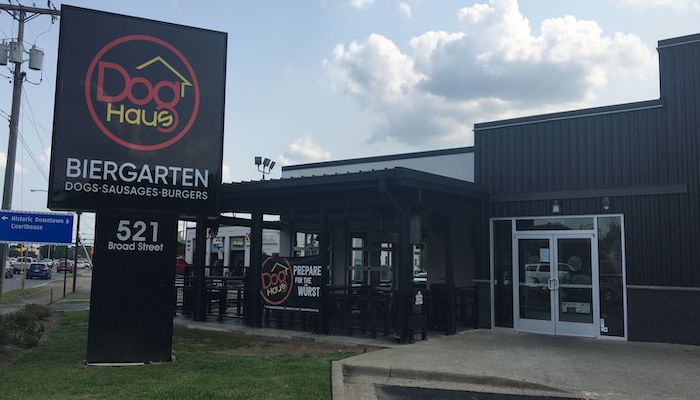 Dog Haus Biergarten Murfreesboro, the gourmet hot dog, sausage and burger concept, will celebrate their grand reopening with a ribbon cutting ceremony hosted by the Rutherford Chamber of Commerce on Wednesday, November 28. The ceremony will also be open to the Murfreesboro public.
This day also marks the launch of Dog Haus' partnership with Nourish Food Bank, encouraging customers to bring a canned food item to be collected and donated by Dog Haus employees, and receive a free side of tots or fries on the Haus on November 28, from 11:00am to 10:00pm. Dog Haus and Nourish Food Bank's partnership will continue through Christmas in an effort to give back to the community this holiday season.
Since reopening this past October, Dog Haus employees have been enthusiastically serving the community. A few direct quotes from them include:
Leading the team here at Dog Haus has been such a pleasure, and I am so thrilled to see so many of our employees back at the restaurant. This grand reopening is the beginning of a new chapter for Dog Haus Murfreesboro, and we can't wait to welcome our customers back time and time again. – Jeannine Diaz, General Manager
Through this grand reopening, I'm excited to truly show the Murfreesboro community what Dog Haus is all about – it's level of quality, commitment to hospitality, fun atmosphere, and passion to give back. These just kick off what I believe will be many years of good times to come, with incredible food in hand. – Nancy Landeros, Assistant General Manager
I'm a lifelong Murfreesboro resident, so I'm dedicated to the community and its people. Dog Haus provides the neighborhood with a comfortable place for friends and family to get together over a meal – I'm excited to be pouring the beer that comes with that! – Zach McGee, Bar Manager
The best part of my day is interacting with guests at our bar, and completing their experience here at Dog Haus. I'm grateful that this place allows me to grow closer with the community, and I look forward to serving and meeting even more people on our grand reopening. – Christophus Moore, Lead Bartender
For additional information, please visit doghaus.com.