Father of Blackman High Teen Killed in Crash Grieves Loss of Second Child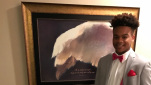 Blackman High School held a vigil Sunday night, to honor two students who died in a car accident Saturday morning.
16-year-old Johntae Adams was one of the teens killed.
His father, Theodore Adams, said there were five teenagers in the car at the time.
He described what the troopers told the family.
"I'm not sure if he said the vehicle was going too fast or all together they tried to over-correct," Adams said. "They went into a little creek. I believe the creek there and the vehicle hit some sort of concrete embankment and at that point the vehicle caught flames."
Theodore Adams described his son as outgoing and active in many sports.
"He was a great kid, you know very bubbly and he had a lot of friends. He participated in track at some point. He was involved on the football team he was part of premier athletics, traveling cheer team," said Adams.
Just one day before his youngest son's death, the Adams family was at a memorial marking three years since the death of their 18-year-old son, DeShaun Sawyers. He was a Blackman High School graduate who was killed on July 14, 2014 .
Adams said, "To ultimately get this news the following day on the 15th that our younger son was killed in a car accident is just, you know, very difficult and trying times, you know, for my family and all."
The Adams family thanked the community for the support and God for the strength as they mourn the loss of their second child.
"We're going to miss him," said Adams. "We are heartbroken. In fact, my wife wasn't able to make it here. She is home and just, you know, we are going through it. But Johntae was a great kid and we love him. We are going to miss him and, not only Johntae, but there was another kid who was killed in the accident and three others who were injured. So our heart and our prayers go out to their families, as well."
Johntae was one of four siblings. He leaves behind a younger sister and an older brother.
If you want to donate to the Adams family, check out their GoFundMe page.
Courtesy of WKRN News 2