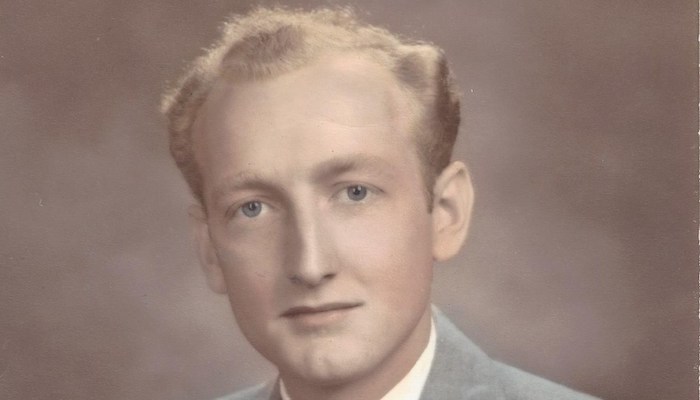 Norman Ross McDowell of Murfreesboro, TN, formerly of Bridgeport, AL and Marietta, GA, departed this life peacefully surrounded by family on Thursday, December 20, 2018. He is preceded in death by parents, Thomas and Bertha Atkins McDowell; wife, Helen Lee McDowell; son, James Thomas McDowell; siblings, Clara McDowell Searcy (Frank), Thomas William McDowell (Eloise), Lawrence Calvin McDowell (Elaine), Gearl Bruce McDowell (Helen), Glen Hubert McDowell, and John Cornelius McDowell; brothers-in-law, Daniel Ellis Case and Robert Melvin Haley; sister-in-law, Jo McDowell; sisters- and brothers-in-law, Dorothy and James Wilson and Polly and Robert Lee; and grandsons, John Andrew Hooper and Robert James Hooper.
He is survived by daughters, Robbie McDowell Hooper (Tom) of Murfreesboro, TN and Jane McDowell Snipes (Brad) of Rocky Face, GA; grandchildren, Thomas Ross Hooper (Stephanie Feingold) of Jersey City, NJ, Matthew Ward Hooper (Fahimeh Fagani) of Boca Raton, FL, and Michael Lee Hooper (Caroline) of Lascassas, TN, William Bradley Snipes, Jr (Katie) of Nashville, TN, James Tucker Snipes and Mary Margaret Snipes both of Athens, GA; sisters, Frances McDowell Haley of Marietta, GA and Carolyn McDowell Case of South Pittsburg, TN; brother, Carl McDowell of Bridgeport, AL; sisters-in-law, Frances Lee and Mary Jim McDowell; and many beloved nieces, nephews, and treasured friends.
He was born September 20, 1922, in Bridgeport, and was a graduate of Bridgeport High School. He entered the U.S. Navy in 1944, serving at Pearl Harbor and Okinawa during WWII. He married Helen Louise Lee on February 8, 1947, and they had three children, Jim, Robbie and Jane. He had a long career with L&N Railway in Chattanooga and Atlanta, and eventually CSX Transportation in Atlanta. He and wife Helen were active members of the First United Methodist Church in both Bridgeport, AL and later Marietta, GA. In later years, he moved to Murfreesboro, TN where he joined St. Mark's United Methodist Church and enjoyed being a member of the Dan Scott Sunday School class. An avid follower of politics, news and college and professional sports, he started each day with newspapers in hand. He lived a life of strong faith, service to others and country, love and loyalty to family, and a code of life principles that included honesty, integrity, generosity, and respect for all people.
The family will hold a burial service on Saturday, December 22nd at 3pm CST (4pm EST) at Sequatchie Valley Memorial Gardens in Jasper, TN. Friends are invited to join the family on Sunday, December 23rd for a celebration of life at St. Mark's United Methodist Church in Murfreesboro, TN. Visitation will be held in the sanctuary at 2pm CST (3pm EST) and a Memorial Service will follow at 3pm CST (4pm EST). Family and friends are invited to lunch in the banquet hall at 1pm CST (2pm EST) prior to the visitation.
The family would like to thank Dr. Wayne Murphy and his staff, and the staffs of Adams Place, Alive Hospice and Thigpen Audiology for their loving care.
In lieu of flowers, the family requests that donations be made to the Endowment Mission Fund at St. Mark's United Methodist Church, 1267 N. Rutherford Blvd, Murfreesboro, TN 37310 or to Whitfield Healthcare Foundation, P.O. Box 1168, Dalton, GA 30722-1168, designated for Peeples Cancer Institute.
An online guestbook is available for the family at www.woodfinchapel.com. Woodfin Memorial Chapel (615) 893-5151.