Prevention Coalition for Success Town Hall Meeting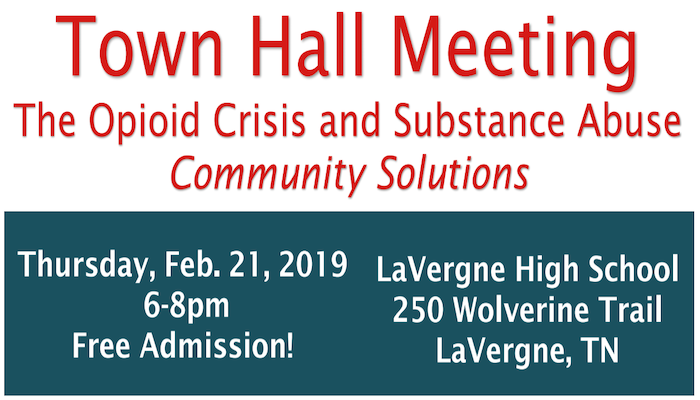 Prevention Coalition for Success would like to announce the first Town Hall meeting in northern Rutherford County to be held on February 21, 2019 at La Vergne High School, 250 Wolverine Trail, La Vergne, Tennessee. This town hall meeting will address the opioid crisis and substance abuse. The FREE event will put focus on the epidemic and community solutions. The event will from 6pm-8pm.
There have been several successful town hall events throughout Rutherford County during the past year. The Town Hall Meeting is an outreach event to our community with a goal to provide information and resources available to combat the opioid crisis and prevent substance abuse as well as reduce stigma surrounding addiction and recovery. Speakers will include: Will Taylor with Project Lifeline, Jaime Harper the Regional Faith-Based Community Coordinator, La Vergne Alderman Melissa Brown and Sgt. John Eubank from La Vergne Police Department. Heather Thompson, Director of Trauma from the Emergency Room at TriStar StoneCrest Medical Center will share information with the community along with representatives from the Child Advocacy Center of Rutherford and Cannon Counties, Narcotics Anonymous, and Rutherford County Health Department (Smyrna Location). Representatives from local treatment facilities will be in attendance to provide information about their services.
"The Prevention Coalition for Success is excited to support this free Town Hall Meeting in La Vergne. We want to hear questions and concerns from the residents of North Rutherford County. This will allow us to support community solutions to the opioid epidemic and substance abuse. Please join us." says Sarah Murfree, Prevention Coalition for Success Director.
Anyone interested in attending or with any questions may go to Prevention Coalition for Success Facebook page (www.facebook.com/PreventionCoalition4Success) or contact Sarah Murfree directly.