Softball Set to Open Season This Weekend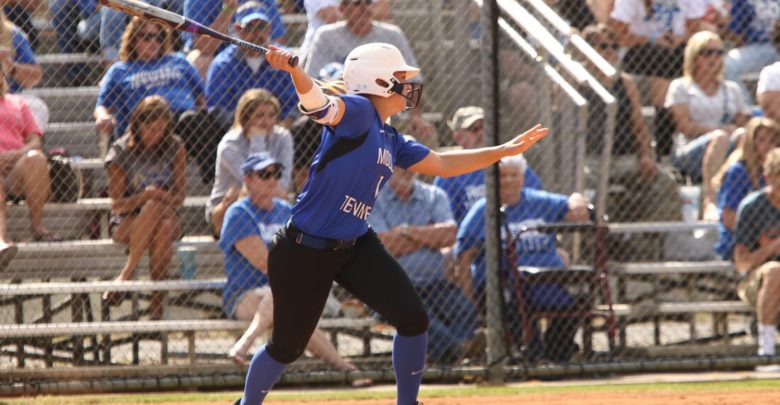 The Middle Tennessee softball team kicks off their season on Friday, Feb. 9 participating in the Stacy Winsberg Memorial Tournament hosted by UCLA.
The Blue Raiders will play six games in three days as they also take part in the Titan Classic hosted by Cal State Fullerton.
On Friday, MT will face Cal Poly (3 p.m.) and UCLA (8 p.m.) inside the Bruin's historic Easton Field. Then on Saturday, the Raiders square off against Rutgers (12 p.m.) and Utah State (2:30 p.m.). Middle wraps up the weekend back at UCLA on Sunday, playing Maryland (11 a.m.) and UC Riverside (1:30 p.m.).
Saturday's game at the Titan Classic will be broadcasted live on Flo Softball.
What to Expect from the Raiders
The Blue Raiders will rely heavily on a crop of veterans as well as several newcomers heading into the 2018 slate. MT will be backed by two Conference USA First Team members in senior outfielder Precious Birdsong and senior catcher Morgan Harris.
Birdsong hit a single season record, .443 in 2017 and looks to remain one of the toughest outs in the nation in her senior campaign. Harris started all 49 games behind the plate while hitting .297.
Newcomers, Samantha Valentine, Jocelynn De La Cruz, Claire Smith and Ryan King will also look to work themselves into the Blue Raider lineup alongside Conference USA All-Freshman team member Summer Burgess. Burgess, a shortstop, hit .309 a season ago while leading the team in runs scored (26).
In the circle, Middle will rely on seniors, Cori Jennings, Gretchen Greer and Pattie Ruth Taylor. Jennings saw the majority of the time last season with a 2.43 ERA and 113 strikeouts in 170 innings of work. Freshman Amber Baldwin also looks to contribute as a member of the Blue Raider pitching staff as well.
Scouting Cal Poly
The Blue Raiders matched up with Cal Poly for the first time last season, meeting in the Cal Poly Mustang Invitational in San Luis Obispo, Calif. The Mustangs bested MT in two one-run contests.
This year, Cal Poly will be without standout pitcher and hitter, Sierra Hyland. Instead they will rely on Lindsay Chalmers. Chalmers pitched 126.1 innings last season accumulating 129 strikeouts and six shutouts.
Three other strong bats return to the Mustang lineup in Crimson Kaiser, Chelsea Convissar and Stephanie Heyward. Each hit above .300 last season, drove in at least 13 RBI and hit multiple home runs.
As a team, Cal Poly competed in the postseason in the inaugural National Invitational Softball Championships (NISC), placing fourth.
Scouting No. 4 UCLA
UCLA and MT are meeting for the first time in program history.
The Bruins had a strong 2017 campaign, making it all the way to the Women's College World Series for the 27th time in program history. UCLA ultimately was eliminated from the tournament by Washington in the second round.
Rachel Garcia returns for the Bruins in the circle after being named the NFCA National Freshman of the Year last season as well as the Pac-12 Conference Freshman of the Year. She posted a 1.87 ERA in 202.2 innings of action. She struck out 212 and was a part of eight shutouts.
The Bruins also return their top offensive threat in Kylee Perez. Perez hit .408 last year with 86 hits, 51 runs scored, 15 doubles, two triples, three home runs and 31 RBI. Brianna Tautalafua also returns. She hit a .335 clip with a team-leading 52 RBI and 16 home runs.
Scouting Rutgers
The Scarlet Knights and Middle have met just once. In 2011, Rutgers defeated the Raiders 2-0 in Boca Raton, Fla.
Rutgers finished 2017 with a 14-37 record. The Knights bring in 10 newcomers set to make their collegiate debuts this weekend.
In the circle, Rutgers lost their heavy starter from a season ago. Whitney Jones will be back for her junior season after throwing 86.1 innings in 2017.
The Scarlet Knights had three hitters above .300 last year, two return. Rebecca Hall hit a .364 clip while Nicolette Anico hit .303. Hall hit 11 doubles, 3 triples and 12 home runs, also leading the squad in RBI (46).
Scouting Utah State
MT has played Utah State twice in the past, leading the all-time series 2-0. The two sides last met in 2002 in Sacramento, Calif. where the Blue Raiders won 1-0 in 10 innings.
The Aggies were another team that competed in the NISC and last season saw its best record (33-18) since the 1993 season.
Kellie White will be the main hurler for Utah State, coming off an impressive freshman campaign that saw her throw 178.1 innings for an 18-7 record. She struck out 93.
Offensively, the Aggie lineup lost two of their top three batters in the order from a season ago. Riley Plogger and Jazmine Clarke return though, both having hit .370 and .325, respectively, in 2017. Plogger lead the squad in RBI with 39 while Clarke tore up the base paths with a team-high 31 steals.
Scouting Maryland
The Blue Raiders will face Maryland for the first time in program history.
Maryland was 11-39-1 last year with the rare tie coming against Dartmouth in the Mardi Gras Classic last February. Despite the losing record, the Terrapins beat Florida when they were ranked No. 1 at the Aquafina Invitational on Feb. 18.
The Terps lost both their main pitchers from a season ago and will rely upon two new faces in Sydney Golden, a junior transfer and Ryan Denhart, a freshman, both out of California.
Maryland does return its top offensive threats in Amanda Brashear, Skylynne Ellazar and Anna Kufta. Brashear and Ellazar both hit near .300 at .304 and .297 respectively. Kufta lead the squad in triples (four), home runs (six) and RBI (26).
Scouting UC Riverside
UC Riverside and the Blue Raiders square off for the first time in program history.
The Highlanders were 28-24 last year, going 10-11 in conference play in the Big West.
Taylor Misfeldt saw the majority of the time in the circle for the Highlanders for her senior campaign. She went 12-7 in 132.2 innings of work last year. She struck out 79.
Jenna Curtan led UC Riverside at the plate in 2017 and returns this year for her senior season. She hit .351 with a team-leading 31 RBI. Hannah Rodriguez also hit above .300 last year while leading the squad in doubles (eight).