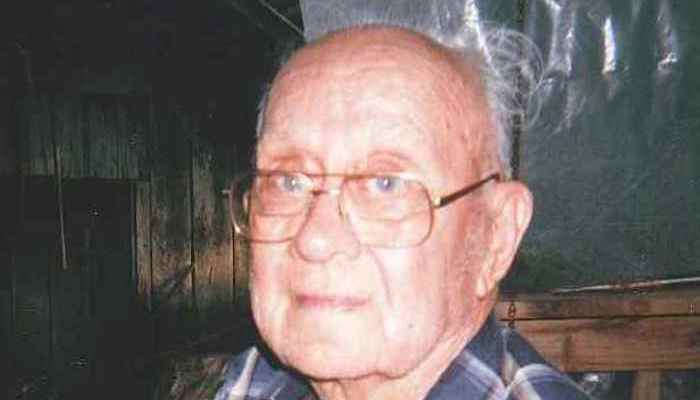 James Claude "Jimmie" McKnight, age 100, passed away Thursday, August 2, 2018, at The Rutherford Assisted Living, his home for the past five years following the death of his wife of 70 years, Alta Hare McKnight (2013).
Mr. McKnight was a lifelong resident of the Lascassas community. He graduated from Kittrell High School in 1939 and attended Middle Tennessee State Teachers College for three years. In 1942, he was called to serve his country and was a member of the Field Artillery Battalion of the 35th Infantry Division, operating survey and fire control instruments. He was active in the Normandy, Northern France, Ardennes, Rhineland, and Central Europe campaigns, receiving several decorations and citations.
After his service, he purchased a farm in Lascassas where he and Alta raised seven children. He was a teacher, carpenter, and farmer. He understood the value of hard work and using the talents God had given him. He enjoyed planting and harvesting crops and raising livestock including goats, hogs, cows, and his greatest passion – Tennessee Walking Horses. He loved the Lord and was a member of the Kingwood Church of Christ. In 2014, he was an honored participant in the Screaming Eagle Honor Flight to Washington, D.C. On June 7, 2018, he became a member of The Century Club of Rutherford County, TN.
Mr. McKnight is survived by his son, James Kennedy "Ken" McKnight of Lascassas, TN; daughters, Carol Vaughter of Murfreesboro, TN, Neika McKnight of Murfreesboro, TN, Rita Lester and her husband Lannie of Milton, TN, Nancy Miller of Lascassas, TN and Darlene Miller and her husband Stan of Lascassas, TN; 12 grandchildren, Rob Vaughter, Charlotte Vaughter Beard, Laura Vaughter Loyal, Marty Bedsaul, Marla Bedsaul Bowman, Karen Satterfield, Stephen Lester, Jeff Miller, Anna Miller Woerner, David, John, and Nathan Miller; 17 great grandchildren, numerous nieces, nephews, cousins, and special friends, Butch and Vamela Gilley, and Mark Lee.
In addition to his wife, Mr. McKnight was preceded in death by his daughter, Nyla Satterfield (2016); his parents, Erastus Alexander and Mary Frances Sneed McKnight; his eight siblings, sisters, Hazel Bennett, Ruby Thompson; brothers, Al D., Ruel, Kenneth, Bill, and infant twins, Frank and Frances McKnight; sons-in law, Gary Simmons, Henry Satterfield, Robert Vaughter, and Mike Miller.
Funeral services will be 2:00 PM Sunday at Woodfin Memorial Chapel and will be officiated by Tony Holt, Mark Lee, and Charles McKnight. Burial will be in the Milton Cemetery with military honors. Grandsons will serve as pallbearers. Honorary pallbearers will be nephews and friends.
Visitation will be from 4:00 PM to 7:00 PM Saturday at Woodfin Memorial Chapel. The family would like to extend their sincerest appreciation to Dr. Stephen Odom and his staff, The Rutherford Assisted Living Staff, Sunnington Assisted Living staff, Avalon Hospice, and Bev Mallory for the exceptional care provided.
Memorials may be made to the Alta and James McKnight Scholarship Fund at Tennessee Children's Home, P.O. Box 10, Spring Hill, TN 37174 or Kingwood Church of Christ. An online guestbook for the McKnight family is available at www.woodfinchapel.com. Woodfin Memorial Chapel. 615-893-5151.