MTSU students engage in upcoming Scholars Week activities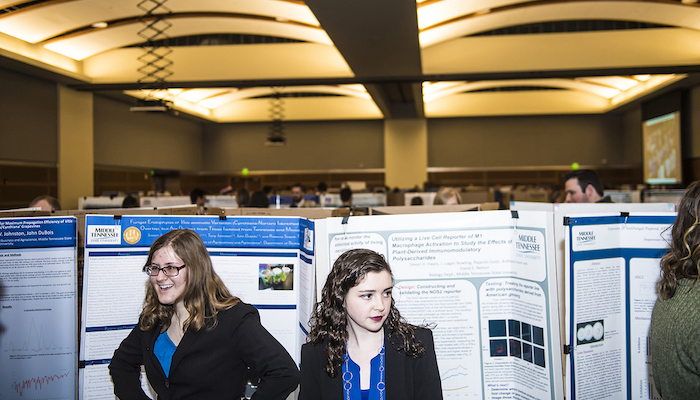 MTSU students often toil one or more semesters — and sometimes year-round — to be part of the annual Scholars Week, which will be held March 18-22 across the MTSU campus.
MTSU Scholars Week is an annual weeklong celebration of research, scholarship, and creative projects.
All events are free and open to the public. To find parking and campus buildings, a printable campus map is available at http://tinyurl.com/MTParkingMap.
Scholars Week highlights include:
Universitywide Poster Exposition: Undergraduate, Graduate, and Faculty Posters will be on display starting at 12:40 p.m. Friday, March 23, in the Student Union Ballroom on the second floor. Judging will take place from 12:40 to 2:15 p.m., with a brief awards ceremony at 3 p.m.
Various colleges within the university will have their own events during Scholars Days throughout the week.
The College of Education Distinguished Scholars Session — "Opening Up Pathways in Education: Diversity in STEM" featuring Reggie Carruth from La Vergne, Tennessee, Middle School; and MTSU professors Judith Iriarte-Gross (chemistry and Women in STEM Center director), Chrisila Pettey (computer science) and Ginger Rowell (mathematical sciences). It will be held at 5:30 p.m. Monday, March 18, in College of Education Building Room 160.
The College of Media and Entertainment Interview with Julien Baker, a former MTSU student who is an indie singer/songwriter, at 4 p.m. Tuesday, March 19, in Business and Aerospace Building Room 102.
College of Media and Entertainment's 48 Hours Game Design Jam, from 5 p.m. March 23 until 5 p.m. Sunday, March 24, in Room 2600 of the Miller Education Center on Bell Street.
James E. Walker Library poster display — First-place winners of the university wide poster event will be on display in the atrium from March 25 through April 10.
To learn more about Scholars Week, the complete schedule and students' and faculty members' abstracts a committee selected for participation, visit http://www.mtsu.edu/scholarsweek/.