MTSU's Diverse Campus Reflected in Newest 'True Blue Pledge' Video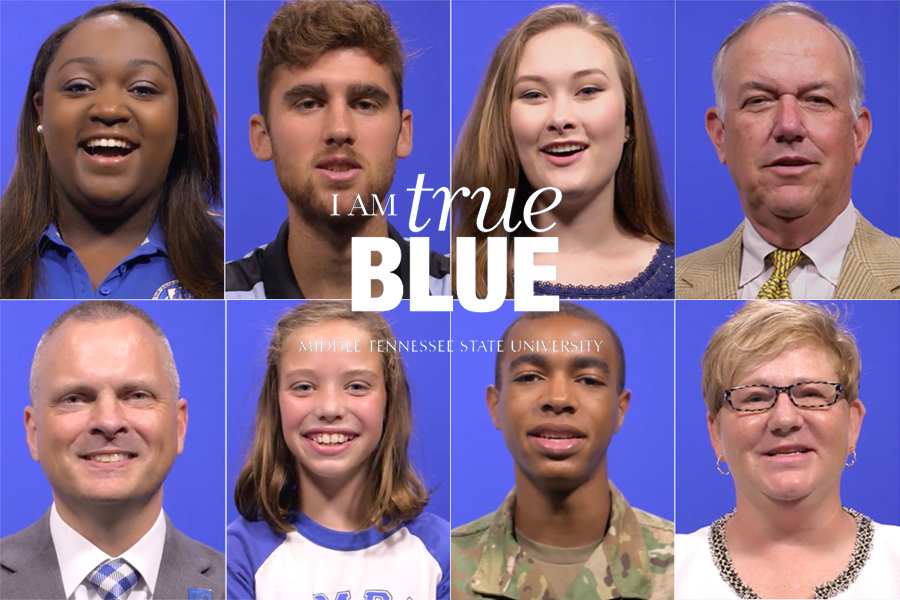 Middle Tennessee State University again enlisted a diverse cast of students, faculty, staff and alumni to recite the latest video expression of what is becoming a cherished Blue Raider tradition.
The True Blue Pledge is recited each fall at MTSU's annual University Convocation ceremony during which university President Sidney A. McPhee, top executives and faculty formally welcome new students to campus and explains MTSU rituals and traditions.
The pledge, which begins with the simple phrase "I am True Blue," underscores MTSU's core values of honesty and integrity; respect for diversity; engagement in the community; and committing to reason, not violence.
"These words express not only the ideals the University wishes to share with its students but also our devotion to student success," said McPhee, who enlisted a task force several years ago to develop the university's foundational values and ultimately the pledge that captures the spirit of those values.
Here is the latest video: https://youtu.be/ehU_WZTlHu4
The True Blue Pledge reads:
"I am True Blue.
"As a member of this diverse community, I am a valuable contributor to its progress and success. I am engaged in the life of this community. I am a recipient and a giver.
"I am a listener and a speaker. I am honest in word and deed. I am committed to reason, not violence. I am a learner now and forever.
"I am a BLUE RAIDER. True Blue!"
Those appearing in the video, in order of appearance, include:
Courtney Brandon — Student Government Association president
Gonzalo Morell Raschiatore — MTSU men's tennis
Jessica Schriver — MTSU Equestrian Team manager
Steve Smith — Board of Trustees chairman, alumnus
Briana Thomas — student
Devin Pope — ROTC, student ambassador
Joey Gray — Faculty Senate president
Nathanael Asrat — student ambassador
Emily Oppmann — Buchanan Fellow
Adrienne Howard — graduate student
Karen Petersen — interim dean, College of Liberal Arts
Leah Perry — Campus School student
Thomas Denney — Interfraternity Council president
Alex Johnson — MTSU women's basketball
Alan Thomas — MTSU vice president for Business and Finance