'He Could Have Taken My Life': Cyclist Hit on Natchez Trace Still Recovering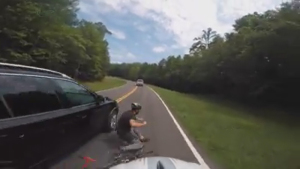 It's been nearly one week since the horrific crash caught on camera, when a bicyclist was hit by an SUV on Natchez Trace Parkway.
The victim, Tyler Noe, told News 2 he is trying to heal from the incident but is having a difficult time walking.
Noe says he has an MRI scheduled for Monday and hopes to learn more about his condition then, but he remains hopeful for a full recovery.
"When the car hit me, I just closed my eyes and it was one of those things I didn't know if I was going to wake up or not. I saw my whole life flash through my eyes during that time. He could have taken my life and that could have affected my family a lot worse than it is now," he told News 2.
According to an arrest report, Neely said a man and woman were standing in the road and threw the bicycle at his car.The driver of the Volvo that hit Noe, 58-year-old Marshall Grant Neely III, is facing a number of charges, including reckless endangerment and leaving the scene of an accident.
Afterward, Neely told News 2, "I did not see the gentleman that I hit. He just kind of came from nowhere. I didn't know I hit him."
News 2 asked the man who was by Noe's side when he was hit and captured the viral video about Neely's response.
"I know that what I saw and heard, and felt was an explosion that is undeniable. You know, obvious to someone that was on the bike there that day what had happened. People from, you know, well away from us would've heard the explosion and the scream, so you know and then no brake lines and just continue on and to merge directly back into the lane afterwards, I think says a lot," Greg Goodman explained.
Noe said he is unable comment about the driver's response.
Neely will make his first appearance in court late next week and hundreds of cyclists are expected to show support for Noe that day.
Members of the Brentwood Endurance Athletic Team or BEAT are organizing a bike ride from Franklin High School to the Williamson County Court House on Thursday.
"It's less to hear what's going on in the courtroom and more just to show that we're all moms, dads, kids, we're not trying to anger motorists, we're just trying to get home to our families at the end of the day, and show our support for Tyler and for Greg." Suzanne Locke who is member of BEAT told News 2.
Noe said he has been overwhelmed with the community's support following the crash.
"The support is phenomenal it feels like a big family, that's what it should feel like," he explained.
Redkite Bicycle Company in Nashville is raising money to gift Noe with a new bike so he can follow his goal of pursuing his first Iron Man.
Courtesy of WKRN News 2