Titans Head Coach Mike Vrabel Visits NICU Families at Saint Thomas Midtown Hospital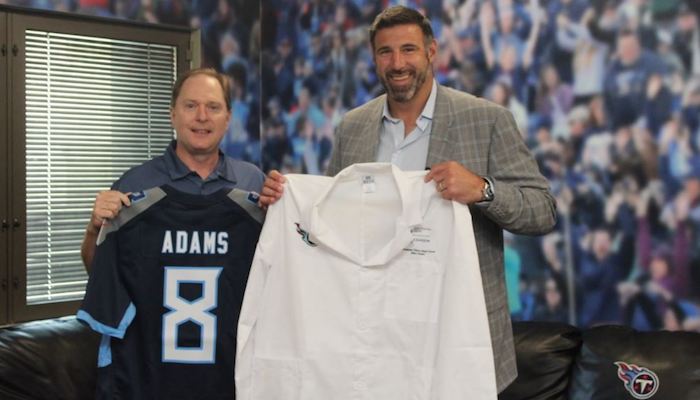 Titans head coach Mike Vrabel visited Saint Thomas Midtown Hospital to meet Tim Adams, Saint Thomas Health's president and CEO, as both are new to their leadership roles within their respective organizations. Vrabel and Adams also spent time meeting former Beaman NICU families who delivered at Saint Thomas Midtown Hospital. Saint Thomas Health is part of Ascension, the nation's largest Catholic and nonprofit health system.
Vrabel and Adams met in the new Titans FanZone Family Waiting Room to discuss why they love living in Nashville, coaching, leadership styles and how they motivate their teams.
Adams became president and CEO of Saint Thomas Health, as well as senior vice president of Ascension Healthcare and ministry market executive for Ascension Tennessee, on Jan. 1. Adams presides over Saint Thomas Health's nine inpatient facilities in Middle Tennessee in addition to a network of physician practices, joint ventures and community partnerships.
"We deliver more babies than any other health system in the state of Tennessee. We have a great group of caregivers and are proud of the trust and confidence our community places in our caregivers," said Adams. "We have the privilege of being involved in the work of restoring health and bringing new life into the world. It sets a clear vision for where you want to go as an organization: Encouraging and rewarding good behavior, staying focused on the vision of the organization and the higher purpose that we have."
Vrabel has 18 years of NFL experience, four as an NFL coach and 14 as a player. His distinguished playing career included three Super Bowl wins (2001, 2003 and 2004), one Pro Bowl selection (2007) and an All-Pro honor (2007). Vrabel played in 206 NFL games, totaled 57 sacks, 496 tackles, 11 interceptions, 20 forced fumbles, nine fumble recoveries and 10 touchdown receptions. Additionally, his teams advanced to the playoffs eight times (20 postseason games), with Vrabel recording eight postseason sacks and two postseason touchdown receptions.
"The excitement of the team is clearly a unique situation. Coming to a team that made the playoffs, that won nine games in a regular season and won a playoff game, it's very unique to be a head coach of that type of team," said Vrabel. "We are going to be as excited about the season as our fans are."
Vrabel also noted: "My job and our coaches job is to teach, develop and inspire. When you inspire, that gives them confidence to do their job and it gives them trust in the coaches and what they are telling them."
Beaman NICU families were invited to meet Tim Adams and Coach Vrabel, have their photograph taken and get an autograph. Adams and Coach Vrabel also visited new families in the post-partum patient rooms.
At the end of the visit, Adams presented Vrabel with a personalized white physician lab coat and Vrabel presented Adams with personalized Titans jersey.