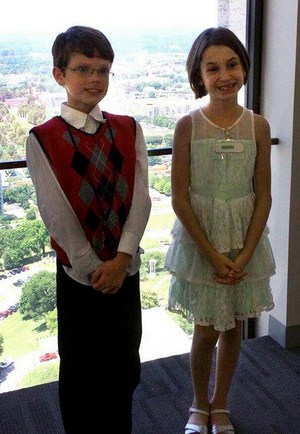 EOA Architects have willingly participated in various outreach opportunities with area high schools from throughout Middle Tennessee and there've been favorable experiences for everyone involved.
But those events have involved hosting teenagers with an interest in pursuing architecture in college.
So when Christina Swart called her brother-in-law Jordan Etters with the idea of hosting an hour-long event with fourth- and fifth-graders, Etters was understandably apprehensive.
He works as a Leed AP BD+C at the East Nashville firm and Swart is an RTI coach at Walter Hill Elementary School.
"He was definitely surprised," Swart admitted. "He was more than willing, but he questioned me a few times. He said, 'Are you sure?'"
Swart and Heather Eskridge, a guidance counselor and this year's Teacher of the Year at Walter Hill, organized this year's version of The Amazing Shake, which is a multi-day competition that comes at the end of a semester long series of guest speakers and lectures emphasizing what are known as soft skills.
After two of challenges that included a trip to downtown Nashville, fourth-grader Aiden Watkins and fifth-grader Linda Pickel are the two finalists.
"I was really, really surprised," Pickel said. "I thought I wouldn't make it because I'm usually the quiet one in my class."
Watkins was equally surprised.
"I didn't know that I did a good job," he said, admitting, "I thought that I (could do) better."
Pickel and Watkins will be greeting customers and offering samples in a real life work environment Saturday afternoon at Sweet Cece's. Watkins will be there from noon to 1 p.m. followed immediately by Pickel from 1-2 p.m.
Over the past few months, students have listened to everyone ranging from Publix, Kimberly Young with Junior Achievement, Trisha Murphy with the Rutherford County Chamber of Commerce, Street Tuxedo & Versona Accessories, Jay Franze with American Security, Middle Tennessee Christian School and the Confucius Institute at Middle Tennessee State University.
The students learned skills such as how to properly tie a tie and dressing for success along with interviewing skills, online business etiquette, resume building, proper handshakes and the importance of making eye contact.
Tuesday's field trip to downtown Nashville was for the final 30 students that originally began Monday morning with a cast of 120.
Students were given a floor plan and rendering of a school project EOA is currently working on, and after arriving at the firm, students were then divided into six groups of five where they were judged on teamwork and presentation.
"The skill that I enjoyed the most was the persuasive thing that we did," said Pickel. "What I liked about that was, for the architect firm, we were able to convince them to build a particular school.
"They really got into the details and told us about things we really didn't think about when we were designing the building," said Etters, who said the tables were turned and listening to each of the students was as much a learning experience for the firm as it was for the students. "This may change the way we think. Maybe we need to be interviewing kids."
"I'm beaming with pride," said Swart, shortly after arriving at their next stop, Nissan Stadium. "I was curious to see if they were going to notice things and their reasoning and logic was fantastic. They have a different perspective. They weren't just focused on recess and P.E. They were focused on learning and efficiency.
The students then worked with Tina Tuggle and Josh Corey.
Tuggle is the director of community relations and Corey is the football outreach coordinator for the Tennessee Titans.
After touring the press box area and game day locker room for the Titans, the students took part in a presentation that narrowed the group from 20 to 10 before moving on to a luncheon at the Tennessee Tower with Ann Thompson, director of Workforce Development.
Tuesday's entire trip to Nashville was live streamed for the school by principal Helen Campbell.
"That was excellent," said Watkins, who enjoyed seeing the locker room but used his charm in an effort to advance to Saturday's final challenge. "I was really nice to people."
Eskridge and Swart said they've seen an unmistakable growth in confidence from all the students throughout the semester.
Eskridge said teachers have been working with students on skills that help them speak with clear points and to carry themselves among adults.
"One of my takeaways is those expectations (related to soft skills) can be high at an early age," said Eskridge, while Swart added, "I am so proud of them. I think they rose to the challenge of our high expectations."
"I wish I would have done something like this when I was in school," Etters added. "I was a really cool learning experience and I hope they remember this forever."